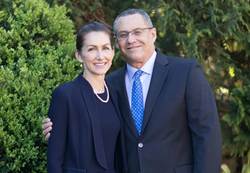 We strive to add joy to our patients' lives through genuine caring, generosity of spirit, and the quality of our work.
SANTA ROSA, Calif. (PRWEB) April 23, 2019
Allegro MedSpa is pleased to announce that the minimally invasive thread lift is now available at both the Santa Rosa and Novato office. The procedure lifts and tightens lax skin to create a more youthful appearance without the high cost or extensive recovery of a surgical face lit. In addition to lifting tissue directly, Allegro MedSpa's thread lift stimulates collagen right at the point of insertion. The Thread Lift complements Botox Cosmetic and dermal fillers, while providing longer lasting results.
While the thread lift has been around since the 1990s, the modern version of this technique is new to most patients. Both Nova Threads and Silhouette InstaLift have FDA approval. The procedure uses disposable sutures to lift, smooth and tighten aging skin on the face and neck. When meticulously placed, the thin sutures, with tiny cones attached, will suspend the targeted tissue. Pulling back lightly on the skin gives the face a lifted, tighter appearance.
Most patients struggling with the signs of aging can be candidates for the thread lift. Generally, patients will be between the ages of 35 and 70, concerned with lax, drooping skin and facial creases. The technique provides excellent results for both men and women, of all skin types.
The Thread Lift Can Help Sagging:

Brows
Cheeks
Jowls
Corners of the lips
Neck
Like many minimally invasive techniques, the thread lift is performed using a local anesthetic, meaning patients are free to go home once their treatment is done. While the area is healing, the fine threads will encourage the body to produce a surge of collagen, further strengthening the skin, making it supple and voluminous. Results will continue to look good for six to eight months.
The thread lift offers an excellent option to some of the biggest patient concerns at Allegro MedSpa. "In our experience patients concern are rarely about vanity. Usually (patients) come in with a distraction or discomfort," Dr. Furnas explains. "We strive to add joy to our patients' lives through genuine caring, generosity of spirit, and the quality of our work,". This means bringing in innovative, new techniques to provide patients with the highest level of care possible.
ABOUT ALLEGRO MEDSPA
Board-certified plastic surgeons, Heather Furnas, MD FACS and Francisco Canales, MD FACS, founded Santa Rosa's Plastic Surgery Associates in 1991. Over the years, as noninvasive procedures became safer and consistently more effective for both facial and physical rejuvenation, Dr. Furnas and Dr. Canales opened Allegra MedSpa. This relaxing, state-of-the-art office is home to a variety of non-surgical aesthetic treatments, such as Botox Cosmetic, dermal fillers, microneedling, the HydraFacial® and laser resurfacing. Additionally, Allegro MedSpa provides one of the area's best selection of skincare products, such as Alasitn®, Obagi®, Revision® Skincare, SkinCeuticals® and SkinMedica®.
For additional information on the thread lift procedure, contact Allegro MedSpa at 707.615.0700. For patient convenience, the thread lift is available at both our locations, in Santa Rosa and Novato.
Contact Information
Allegro MedSpa
4625 Quigg Drive
Santa Rosa, California
707.615.0700
https://dayspa.com/