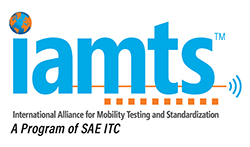 "The continued growth of IAMTS shows that the autonomous vehicle industry are dedicated to ensuring safe, effective testing of autonomous vehicles so they can deploy around the world." Alexander Kraus, chair of the IAMTS Executive Committee
WARRENDALE, Pa. (PRWEB) September 17, 2020
The International Alliance for Mobility Testing and Standardization (IAMTS) continues to grow with the addition of five new member organizations: Der Verband der TÜV e.V, 3D Mapping Solutions GmbH, Humanetics Group, Hulunbeier Flaming Creations Automotive Technology Co. Ltd and Tallinn University of Technology.
"The continued growth of IAMTS shows that the autonomous vehicle industry, as well as those organizations who have long supported vehicle testing and certification, are dedicated to ensuring safe, effective testing of autonomous vehicles so they can deploy around the world," said Alexander Kraus, chair of the IAMTS Executive Committee and senior vice president at TÜV SÜD as a strategic member of IAMTS. "We are so glad to welcome VdTÜV, 3D Mapping Solutions, Humanetics, Flaming Creations, and Taltech to the consortium and look forward to their support and contributions."
Der Verband der TÜV e.V.
VdTÜV (Association of Technical Inspection Agencies) advocates technical safety and trust in products, plants and services by independent testing in Berlin and Brussels. Its members are the TÜV organizations as well as industrial companies which are affiliated with the objectives and tasks of the association. With its positions on safety in the industrialized society, on mobility as well as on products and services, VdTÜV is a sought-after contact for politicians, companies, associations and authorities. The association is committed to adapting rules and standards to the latest technological standards at all times. With its experts, VdTÜV pursues the aim of safeguarding the high level of technical safety within our society and developing secure frameworks for technological change.
Richard Goebelt, director of Automotive & Mobility and member of the Management Board at VdTÜV, said, "We are thrilled to become a strategic member of IAMTS. It's an exciting milestone for the international orientation of VdTÜV. Together with the members of IAMTS we will continue our work to help develop a commonly accepted framework of regulations, validation and certification methods, and to ensure the best testing practices for autonomous and connected vehicles."
3D Mapping Solutions GmbH
Located in Holzkirchen, Germany, and Pittsburgh, USA, 3D Mapping Solutions is one of the leading experts in the fields of high-accuracy kinematic surveying of public roads, proving grounds, racetracks and rough road test tracks of any kind. 3D Mapping Solutions specializes in high-precision and high-resolution mapping of road networks, test and racetracks as well as testing grounds. They create high-precision reference maps as a basis for user-specific developments, for advanced ADAS or driving development, test and validation applications for autonomous driving. Another important field of activity is the development of digital surface models as a basis for a wide range of applications in the areas of tire development, noise analysis, vehicle dynamics and driving comfort simulation.
Gunnar Gräfe, managing director of 3D Mapping Solutions, stated, "We are excited to contribute our expertise in the standardization, description and availability of digital data of test sites and racetracks at IAMTS. For us, this is an ideal complement to our activities in the standardization and specification of Ultra HD Map data, such as OpenX standards at ASAM e.V."
Humanetics
The Humanetics Group is a global science and technology organization with a mission to save lives, protect people and empower them. The Group accomplishes this by translating our physical surroundings into sensory intelligence via data, digital and measurement devices to give people precise control in critical environments. Humanetics is best known as the market leader in crash safety technology and the pioneer of the iconic biofidelic crash test dummies. The organization is also a market leader in calibration equipment, crash sensors instrumentation, virtual simulation modeling and active safety testing equipment. The company's devices and simulation software are used to develop safety systems in vehicles, aviation, and space rockets. In the automotive sector, Humanetics serves 100 percent of the OEMs and Tier I safety suppliers worldwide. The Group has partnered across the industry to develop each generation of devices to ensure that OEMs can develop vehicles that protect all occupants in the event of a crash.
Chris O'Connor, president and CEO of the Humanetics Group, commented, "We have been working with the automotive industry, regulators and safety organizations for 70 years to ensure that as they innovate we can give them, and their customers, confidence in the safety of their vehicles. Humanetics is deeply invested in the development of the next generation of mobility and active safety systems, and we are delighted to join IAMTS and this exciting ecosystem, and to play a key role to ensuring the future of mobility is a safe one."
Flaming Creations
Hulunbeier Flaming Creations Automotive Technology Co. Ltd provides full winter test programs for the automotive industry. It is located in the north-east part of the Inner Mongolia region of China and has stable winter climate with average temperature of -20 ℃ and good ice/snow conditions. The testing season is between November to the end of March each year. With nearly 20,000 square meters of lake surface, it is considered one of the largest winter testing proving ground in Asia. A separate land test area provides a variety of test tracks. There are independent test areas, land professional test roads, city snow roads, rugged roads, bumpy roads and so on. According to customer needs, Flaming Creations is able to design and construct individual tracks with different ice/snow surfaces. It also provides winter driving training and subjective evaluation test.
Wei Li, chairman of Flaming Creations, said, "The automotive industry is going through some major changes in technology and business models. An aligned standard and integrated development approach is crucial for future technology and applications. Flaming Creations is very happy to join IAMTS to work with some of the world technology leaders in the most forefront areas of this development. Leveraging our unique geographic location and its direct access to the Chinese automotive market, Flaming Creations is open for cooperation with all industry partners to develop a future oriented testing ground to ensure the safety and efficiency of EV and autonomous driving."
Tallinn University of Technology
Creators of digital innovations, Tallinn University of Technology (TalTech) is leading Estonia and the world towards a sustainable digital future with confidence. The autonomous vehicles research group in TalTech is working on research, development, and implementation of autonomous vehicles, industrial mobile robotics, and a smart city testbed. Well known for its cybersecurity, 5G and self-driving vehicle programs, TalTech is a leading university in Northern Europe.
Dr. Raivo Sell, Autonomous Vehicles research group leader, said, "In our research group we are designing and building self-driving vehicles for real use cases on the streets. The safety, standardization and verification procedures are extremely critical to us and IAMTS is a perfect organization to help us to collaborate all around the world making this technology safer. We hope to be an active member and attractive testbed to all of the alliance"
IAMTS has the mission to develop and grow an international portfolio of smart mobility testbeds that meet the highest quality implementation and operational standards. For more information about IAMTS, including membership, please visit http://www.iamts.org or contact info@iamts.org.
SAE Industry Technologies Consortia (SAE ITC®) is an affiliate of SAE International. The SAE ITC team specializes in establishing and managing consortia by providing proven processes, tools and resources. ITC enables public, private, academic and government organizations to connect and collaborate in neutral, pre-competitive forums thus empowering the setting and implementation of strategic business improvements in highly engineered industries globally. http://www.sae-itc.com