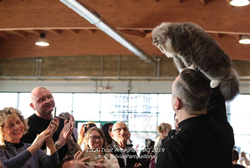 LAS VEGAS (PRWEB) June 12, 2019
VIVA LAS VEGAS II Returns to The Strip for an International Show and All Things Feline Exposition this Labour Day Weekend.
The International Cat Association's (TICA) 40th annual show and awards ceremony, 'Viva Las Vegas II', is returning to Las Vegas this summer.
The TICA international show is in town for its biggest event of the year - the Oscar's of the cat world - to stage, reward, and celebrate our purrfect companions. Taking over Rio All-Suites Hotel and Casino in Las Vegas from August 30th to September 1st, about 500 cats, across 70 breeds will be there to strut their stuff and compete for best cat, best kitten, best neuter, and best household pet in show.
TICA is the world's largest genetic registry of pedigreed cats, household pet cats, and kittens. The organisation was the first and now the largest registry to allow household cats of unknown ancestry to compete for the same titles and awards as pedigree cats. Originally a North American organisation, TICA now has a worldwide presence and is one of the world's largest sanctioning bodies for cat shows.
Bringing together cat breeds and cat lovers from all over the world, this show will allow you the opportunity to see cat breeds that you don't normally see in your everyday life. Ever wanted to see the Lykoi, also known as the werewolf cat before? This is your chance to see it and many more rare breeds.
Viva Las Vegas II will host 14 International judges across a weekend of awards, banquets, and ceremonies. During the day visitors can expect an extravagant number of cats and exhibitors, fit for the Vegas strip. On Saturday night there will be a black-tie awards show with over 500 guests celebrating the best of the best in cats.
For those more interested in spoiling their beloved feline companions, don't worry, we've got you covered! There will be a multitude of vendors that you can purchase goodies from, including Royal Canin, Dr. Elsey's, and Sturdi Products, just to name a few.
Get your tickets before they sell out to ensure you don't miss out on an amazing weekend filled with all things cat.
August 30th - September 1st 9am – 5pm
Rio-All Suite Hotel http://www.jazzycats2019.com
For more information, please contact:
pr(at)londoncats.org.uk