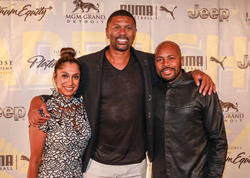 "These past couple of days have been amazing. I'm blessed so many people believe in our mission and want to support our efforts" - Jalen Rose, Founder of Jalen Rose Leadership Academy
DETROIT (PRWEB) August 30, 2018
The 8th Annual Jalen Rose Leadership Academy (JRLA) Celebrity Golf Classic was held on August 26 & 27 in Detroit and raised over $100,000.00 for JRLA. The weekend was hosted by NBA Star and current ABC/ESPN Analyst, Jalen Rose, and many celebrity friends benefitting the open enrollment, public charter high school he founded in his hometown of Detroit. JRLA currently ranks third for open enrollment high schools in the City of Detroit for college enrollment and first for college persistence.
The annual event began on Sunday, August 26 with The JRLA Red Carpet & Gala presented by MGM Resorts International at MGM Grand Detroit. Celebrities and guests entered the exquisite MGM Grand Ballroom via a Red Carpet for a elegant evening experience. The star-studded event featured cuisine by MGM Detroit, a hype musical performance by DJ sensation, D-Nice and signature cocktails presented by Tanqueray No. TEN and CIROC. New this year, was the 2018 JRLA Leadership Award, presented by Jalen Rose to David Merritt and Kuhu Saha for their work with the FATE Education Enrichment Mentoring Program and the JRLA scholars.
On the morning of Monday, August 27, the historic Detroit Golf Club hosted the 8th Annual Jalen Rose Leadership Academy Celebrity Golf Classic presented by Tom Gores and Platinum Equity. The sold-out event was played on both the North and South Courses. Guests enjoyed putting lessons presented by UAW-Ford from special guest, Professional Golfer and Event Co-Host, Seema Sadekar.
Celebrity guests included former NBA Veterans and Michigan sports stars; Tracey McGrady, Jimmy King, Malik Rose, Howard Eisley, Spencer Haywood, Jordan Crawford, Shasta Averyhardt, Perry Watson, Maceo Baston, Antoine Joubert, Steve Fisher, Ron Harper, Willie Norwood, Dave Bing and many more.
Each tee-box featured a different "JRLA Future Leader" sign highlighting the success of a scholar along with various event partner logos. The official event vehicle sponsor, Jeep, positioned a Wrangler Rubicon and Grand Cherokee Limited on course for Hole-In-One challenges. Guest were able track their scoring live on handled devices sponsored by Others First. Post round playoffs, just outside The Clubhouse Lounge presented by ABC's "Fresh Off The Boat," were presented by Puma Basketball which featured a $5,000 Putting Challenge and a One-Million Shot.
"These past couple of days have been amazing. I'm blessed so many people believe in our mission and want to support our efforts," said Rose. "Your education shouldn't be defined by your zip code and that's why I founded JRLA. As a public charter high school in Detroit, we get zero state funding for our facilities and receive less state aid than traditional public schools, especially those in surrounding suburbs. This is our largest fundraiser of the year and the funds raised allow us us to provide unique opportunities for our scholars and the facility to house them."
The event continues to be tremendous pillar for success for JRLA and again proves to be the premier celebrity, lifestyle and golf experience in Detroit. For additional 2018 highlights and 2019 dates, please visit the official tournament website http://www.jalenrosegolfclassic.com.
***FOR MEDIA INQUIRES PLEASE CONTACT Lauren Clark at Ignition Media Group (313) 496-1900 | lauren(at)ignitionmediagroup.com or Diverse Public Media | hello(at)diversepublic.com***
ABOUT JALEN ROSE LEADERSHIP ACADEMY
Jalen Rose Leadership Academy (JRLA) is an open enrollment, public charter high school on the northwest side of Detroit. The Academy began its first academic year in September 2011 and currently serves over 400 ninth through twelfth grade scholars and over 360 alumni from metro-Detroit. It's mission is to empower all scholars to develop the strength of character, skills, and knowledge needed to matriculate, be great in, and graduate from college so that they have opportunities to be successful in the competitive world and to take care of themselves and the people that they love. More info: http://jrladetroit.com
ABOUT PGD GLOBAL
Play Golf Designs, Inc. (PGD Global) is a golf marketing & event company, directing and participating in luxury events for some of the world's most legendary athletes, brands, entertainers and organizations including Coach Mike Woodson, Julius Erving, Chris Tucker, Jeffrey Osborne, Viacom, The Broadcasters Foundation of America, The Calvin Peete Foundation, Diageo and MGM Resorts International. PGD blends pop culture and entertainment, creating the most unique, innovative golf events and experiences for each client. PGD Global focuses on celebrating diversity and inclusion in golf while welcoming women to the game with open arms. Specializing in connecting golf to the modern world of trends and fashion, PGD Global operates golf and lifestyle events and experiences all around the country, welcoming new golfers and businesses to the game. More info: http://pgdglobal.com.
ABOUT PLATINUM EQUITY
Platinum Equity is a global investment firm founded by Tom Gores. With $13 billion of assets under management and a portfolio of more than 30 operating companies, the firm specializes in mergers, acquisitions and operations – a trademarked strategy it calls M&A&O® – acquiring and operating companies in a broad range of different sectors.
ABOUT THE MGM GRAND DETROIT
The only Forbes Four-Star hotel in Detroit with the only Forbes Four-Star spa in Michigan, the AAA Four Diamond Award-winning MGM Grand Detroit is the city's first and only downtown hotel, gaming and entertainment destination built from the ground up. The hotel features 400 chic and stylish guest rooms, including nine rooftop VIP suites and 56 opulent corner suites. Guests enjoy signature restaurants; two by world-renowned chef Wolfgang Puck as well as the hotel's own sports pub, TAP at MGM Grand Detroit; casual dining options; lounges; and the only resort-style spa in Southeast Michigan. More than 30,000 square feet of meeting space hosts everything from large corporate events to intimate black-tie affairs. MGM Grand Detroit is a wholly owned subsidiary of MGM Resorts International. For more information, visit mgmgranddetroit.com, Facebook https://www.facebook.com/MGMGrandDetroit/ or call toll free at (877) 888-2121.