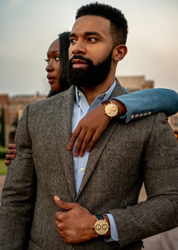 Our instant popularity on Kickstarter serves as a strong validation that global travelers are looking for a luxury travel watch offered at a fair price
HOUSTON (PRWEB) May 07, 2020
The Janus Dial eclipsed its crowdfunding goal within two hours of launch, and has raised over $30,000, more than triple its goal, with two weeks remaining in the Kickstarter campaign.
"We are incredibly grateful for the support we are receiving from backers around world, it's been nothing less than phenomenal," said J. Hathaway Founder Jason Ravin. "Our instant popularity on Kickstarter serves as a strong validation that global travelers are looking for a luxury travel watch offered at a fair price. By bypassing distributors, wholesalers, and retailers and engaging directly with crowdfunders, you're getting a luxury watch at a fraction of the price."
Assembled by hand from the finest materials, the limited-edition timepiece comes in 11 stunning color variations each named after a city visited during the development of the watch.
The Janus Dial dual time zone is designed for people who feel connected to two separate places at the same time, often home and another special city. It's aptly named after the Roman god of time.
The Janus Dial features:

Scratch resistant sapphire crystal
Ornate multi-layered dial
Dual Swiss made movements for two time zones (home and travel destination)
Brown Topaz Swarovski crystals decorating each crown
316L surgical grade stainless steel to ensure durability
Milanese Mesh bracelet or a textured Saffiano leather band
Signature Janus Dial diamond pattern
Hand-stitched leather travel case
Wooden chest for daily storage
Ravin, who received his undergraduate degree from Howard University and his postgraduate degree from The London School of Economics, created the distinctive dual-time zone design following his travels to more than 40 countries.
"I've always believed travelers were underserved by not having both classically and functionally designed products to choose from, so our company is focused on creating essentials that have both form and function," Ravin said. "After years of intentional design thinking about the needs of travelers, The Janus Dial is the culmination of our best research and development."
The Janus Dial is available in 11 color and strap combinations, including The Janus Dial Chicago (gunmetal black strap and face), The Janus Dial Hong Kong (brown strap and silver face), The Janus Dial Cape Town (wine red strap and gold face) and The Janus Dial San Francisco (rose gold strap and face). Each is limited to only 500, and all timepieces are covered by an industry-disrupting lifetime warranty.
For more information about all of the J. Hathaway limited-edition timepieces, and to purchase while the watch is available at an early-bird crowdfunding discount, visit The Janus Dial Campaign Page on Kickstarter. For media videos and images visit the J. Hathaway Press Kit.