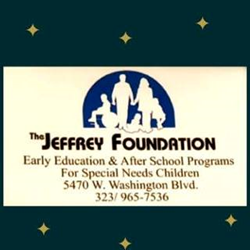 "Research shows that creating art helps support children's large and small muscle development as well as their hand-eye coordination. It also assists their cognitive, emotional and social development." - Marvin Espinoza, Executive Director, The Jeffrey Foundation
LOS ANGELES (PRWEB) April 01, 2019
The Jeffrey Foundation, a 47-year-old Los-Angeles-based California non-profit serving special needs children and their families located at 5470 W. Washington Boulevard, announces the launch of their Circle of Love's Special Child U.S.A National Kid's Art Contest. The contest commences on April 1, 2019, with a deadline for entries due May 30, 2019. Winners will be announced on September 1, 2019.
The contest is open to children and youth with special needs in the following age categories, 5-8, 9-12, 13-16, and 17-20 years old.
"The Jeffrey Foundation's 'Circle of Love,' founded in 2006, is a group of dedicated men and women who are friends of the Foundation," said Alyce Morris Winston, Founder and Fund Development Chair, The Jeffrey Foundation. "Our Circle of Love helps the Foundation raise funds for the gaps in grant and government funding for much-needed programs, as well as continually show their support in all areas of the Foundation's events, programs and activities. We so love and appreciate our Circle of Love family, and in celebration of children and families with special needs, we're inviting kids around the country to show us what their 'Circle of Love' looks like."
"We're very excited about this national art contest," said Marvin Espinoza, Executive Director, The Jeffrey Foundation. "Research shows that creating art helps support children's large and small muscle development as well as their hand-eye coordination. It also assists their cognitive, emotional and social development and provides a wonderful artistic outlet encouraging their imaginations. At the Jeffrey Foundation, we strive to makes children's lives more fulfilling and we strongly feel this contest will benefit children on many levels."
Artwork submitted to the contest must be mailed or delivered by May 30th to Alyce Morris Winston, Circle of Love Special Child U.S.A. Art Contest, 5470 W. Washington Boulevard, Los Angeles, CA, 90016. For inquiries, call the Foundation at 323.965.7536.
Additionally, upon entering the contest, every entry will require a release form signed by the child's parent or guardian and include complete and current contact information. Winners in each category will be selected by a panel of Special Child U.S.A. judges, and honorable mentions will be presented to artists whose submissions are also particularly notable.
Contest winners in all four categories will have their artwork framed and displayed at The Jeffrey Foundation and Special Child U.S.A. headquarters. Winners will also receive a framed copy of their artwork and a gift card to a local art supply store.
Special Child U.S.A. Artistic Director and one of the Foundation judges is Michael Seale, Jr. Michael has created over 350 abstract art expressions since the tender age of thirteen. After taking an art class at the Watts Towers Art Gallery, his passion for painting with acrylics on canvas was heightened. He feels that the process of doing art is a time-proven stress reliever, and if done regularly, will enlighten a person physically, mentally, financially, and spiritually.
About the Jeffrey Foundation
In 1972, after Alyce Morris Winston found it impossible to find adequate daycare for her adopted son Jeffrey who had muscular dystrophy, she founded The Jeffrey Foundation. Since then, the Foundation, which serves children (infants to 22 year-olds) with a full range of illnesses and disabilities, has taken the lead in our community in providing full inclusionary practices, workshops, and services such as information assistance, community integration, outreach, pediatric health care prevention and services, family transportation, child/family advocacy, and child care provider education. For more information, visit https://thejeffreyfoundation.org and https://specialchildusa.org or call (323) 965-7536.
About Special Child U.S.A.
Special Child USA is an affiliate of the Jeffrey Foundation, a California non-profit corporation, which was founded in 1972 to serve special needs and at-risk children and their families by providing recreational, educational and therapeutic programs and services. As many states throughout our nation do not offer services for special needs children to develop to their full level of functioning or achieve a quality of life they so deserve, Special Child U.S.A. was founded to replicate the Jeffrey Foundation's award-winning programs and services throughout the United States. The mission of Special Child U.S.A. is to help every child receive proper services based on their needs.
Find Us
Facebook.com/thejeffreyfoundation
Twitter.com/SpecialHelpers
https://instagram.com/thejeffreyfoundation
For Media Inquiries, Interviews & More Information, Contact:
Maryann Ridini Spencer
Ridini Entertainment Corporation Public Relations
818.884.0104
recprinfo(at)gmail(dot)com