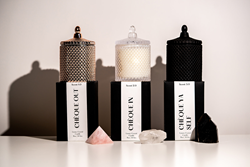 PHOENIX (PRWEB) October 06, 2021
Phoenix-based start-up, The Jenesis House, has answered the call for a renewed interest in self-care with the debut of its luxury crystal candle collection. Formulated from a blend of essential oils, 100% soy wax and a wood wick The Jenesis House Crystal candles will have what feels like an everlasting burn of up to 50 hours.
The collection's candles are all non-toxic, vegan, cruelty-free, and are hand-poured by the creator herself, Creative Director Jenesis Laforcarde.
With the debut of the luxury candle line, Laforcarde is on a much bigger mission to operate the first Black female-owned wellness resort in Arizona for everyone to experience -- especially people of color. According to the National Association of Black Hotel Owners, Operators, and Developers (NABHOOD), less than 1% of all hotels are owned by African American women. When asked about her motivation for creating the candle collection, Laforcarde explained: "The Jenesis House is currently self-funded, so I wanted to launch a luxury candle line to help contribute to the thousands of dollars in startup costs to make this dream a reality."
Keeping wellness and self-care at the forefront, those interested in making a smaller contribution can purchase candles from the collection at a cost of $65 each. Available in 3 enchanting fragrances: Cheque In, Cheque Out, and Cheque Ya Self. The candles are packaged in luxury glass jars available in crystal, rose gold, and matte black.
To help push the agenda forward, The Jenesis House has also launched a crowdfunding campaign that is hosted on ifundwomen.com a crowdfunding platform for women. The campaign goal is $500,000 and anyone can show their support by simply donating or pre-booking a heavily discounted 3-night stay at The Jenesis House for $1,500 for one person or $2,500 for two people. The reward night stays will feature a welcome bottle of champagne, complimentary spa treatments, and mediation time as well as an all-inclusive culinary experience.
Laforcarde is also offering complimentary refills on luxury candles for those who plan to visit the highly anticipated resort. For those that love the lavish candles and can not wait for the resort's doors to open, Laforcarde is encouraging customers to send in their crystal candle jars for complimentary refills as well.
The candles are currently available for sale on the company's website. To purchase a candle, get further information and updates on the new resort, visit: http://www.thejenesishouse.com.