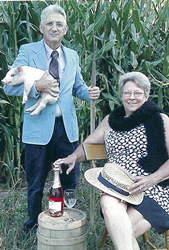 FREDERICK, Md. (PRWEB) December 12, 2022
The Kay F. and Douglas K. Sheiss Fund has been established with The Community Foundation of Frederick County and becomes one of its more than 770 component charitable funds.
Kay Sheiss' support of the Community Foundation goes back many years. She assisted with development efforts when it was first established and has been a proud supporter of its initiatives and mission ever since. Mrs. Sheiss created the unrestricted fund to honor her and her late husband, Douglas, and their commitment to the Frederick County community. Mrs. Sheiss believes that the unrestricted element of the fund will provide the greatest impact and carryout their charitable intentions for generations.
As a leader in grant and scholarship funding, The Community Foundation of Frederick County has given back more than $86 million to the community since 1986. To learn more about how the Community Foundation impacts Frederick County, visit http://www.FrederickCountyGives.org.