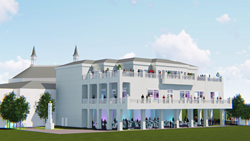 With the major expansion this year and new partnership with Rosemary's Catering, we'll be able to enhance the visitor experience with both the Museum's new exhibition and event capabilities.
SAN ANTONIO (PRWEB) September 14, 2018
The RK Group has been awarded a five-year contract with the Kentucky Derby Museum to provide year-round private event catering services. The five-year contract awarded to Rosemary's Catering is set to commence January 2019 and run through 2023.
"The RK Group was selected by the Kentucky Derby Museum's Board of Directors following review of the company's response to a competitive request for proposal (RFP), which we issued late last year," Kentucky Derby Museum President and CEO Patrick Armstrong said. "We are excited to have their renowned event catering team as a partner in the years ahead, whom we have come to know and respect over the last five years through their work orchestrating Derby Experience Programs for QuintEvents during the Kentucky Derby."
The Kentucky Derby Museum is a non profit organization, in Louisville, Kentucky located adjacent to historic Churchill Downs Racetrack. The Museum is one of the premiere attractions in Kentucky celebrating the tradition, history, hospitality and pride of the world-renowned event that is the Kentucky Derby. The Kentucky Derby Museum hosts and provides catering for many private events year round, including conventions, rehearsal dinners, weddings, corporate dinners, exhibit openings, Museum-hosted special events, and meetings. The RK Group's event catering team, Rosemary's Catering, will provide services at the Kentucky Derby Museum, and in the process build on its seventy-year legacy as the first venue serviced outside Texas on a year-round basis.
"It is a especially exciting time to be partnering with the Kentucky Derby Museum because the facility will be expanding significantly this year, which will provide additional opportunities for this great venue to host a spectrum of large events," added Neil Fuselier, Senior Vice President at The RK Group. "We feel privileged by the opportunity to serve the Kentucky Derby Museum and its guests throughout the years ahead, and contribute to the celebration of the rich history, hospitality and pride of the world-renowned event that is the Kentucky Derby."
Construction is currently underway on the Kentucky Derby Museum's $6.5 million expansion and renovation project, the largest in its 32-year history. It will add more than 11,000 square feet of exhibit and event space as well as renovate 5,000 square feet of existing space. The multi-million dollar project is scheduled for completion by November in time for the 2018 Breeders' Cup at Churchill Downs. The Museum will remain open during the entire duration of the project. The Kentucky Derby Museum closed out fiscal year 2017 with record-setting attendance, welcoming more than 230,000 visitors; an increase of 5.6 percent over the previous fiscal year.
"With the major expansion this year and new partnership with Rosemary's Catering, we'll be able to enhance the visitor experience with both the Museum's new exhibition and event capabilities. We expect both developments will create a dynamic way to present our mission to engage, educate and excite everyone about the extraordinary event that is the Kentucky Derby," Kentucky Derby Museum President and CEO Patrick Armstrong said.
Rosemary's Catering and The RK Group have decades of experience providing private event catering services at major event venues across Texas, and are excited to establish a year-round team in Louisville following years supporting the Kentucky Derby by providing VIP hospitality experiences and services. For example, Rosemary's Catering first started event catering services at the University of Texas' Etter-Harbin Alumni Center in Austin in 1990; at the Capitol Grill at the Texas Capitol in 1994; and at Bob Bullock Texas History Museum in 2001; while The RK Group's convention catering team has been a committed partner to ensuring excellent visitor experiences at San Antonio's Henry B. González Convention Center since 1972.
The RK Group's event catering team, Rosemary's Catering, has been involved in achieving winning VIP experiences at some of the most important racing and sporting events in the nation, and display their mastery of culinary and hospitality services at sporting events throughout the country, throughout the year. Fans will find them at key events for professional sports and collegiate competitions and playoffs, and catering to everything from golf and racing attendee experiences at elite events, to those attending rodeos or watching extreme sports.
Rosemary's Catering became involved in sports hospitality catering nearly a decade ago, and has been an event partner to QuintEvents at dozens of their national events. Rosemary's Catering often partners with other specialized sister companies of The RK Group to facilitate the highlights of sporting event VIP hospitality packages, to deliver seamless culinary and hospitality services that support sporting and other live events, festivals, concerts and shows. This integrated capability allows The RK Group to provide unrivaled catering at sporting events alongside event design and production; temporary structure and event rentals; mobile kitchens, dishwashers, restrooms & shower trailers; floral and sculptural design services, audio-visual, and event branding/printing capabilities, among other services.
High-resolution media images available here: http://bit.ly/2x7CZSp
About: Kentucky Derby Museum (DerbyMuseum.org) – Kentucky Derby Museum, a 501(C)(3) non-profit public charity organization in Louisville, Kentucky has a commitment to ENGAGE, EDUCATE and EXCITE everyone about the extraordinary experience that is the KENTUCKY DERBY.
About: Rosemary's Catering (RosemarysCatering.com) is Texas' leader in catering, event and hospitality services, and has established seven decades of success by being the 'go-to, can-do' partner people count on for any occasion, all season long. Rosemary's Catering brings passion for creative cuisine and gracious service to any setting, for every occasion and every taste, and is the flagship brand of The RK Group. Established by founder Rosemary Kowalski, and continued today by two successive generations of culinary and event professionals, Rosemary's catering serves thousands of annual events making each truly extraordinary – from a family's garden wedding to society's most anticipated charitable galas.
About The RK Group (therkgroup.com) is a growing national leader in culinary, event, and hospitality services, as well as turnkey venue and F&B program management, and the parent company to an integrated family of specialized product and service companies, which are continuing to expand nationally and build upon 70 years of legacy. The RK Group supports 4,000+ events annually through its signature family of brands, catering to the needs of a diverse clientele, and is uniquely able to offer a one-stop event planning solution and array of services, which includes: catering, comprehensive event rentals, floral and branding decor, event design and technology, transportation, and destination management services, among others.
About: QuintEvents (QuintEvents.com) is the industry-leading provider of travel/experience/hospitality packages in partnership with many of the world's most prominent sports and entertainment events. Based in Charlotte, NC, QuintEvents' innovative programs enable those properties to expand fan experiences and corporate client entertainment opportunities in a way that reflects the quality and prestige of those brands. QuintEvents has a portfolio of 17 official property partnerships servicing over 80 events including Formula 1, Kentucky Derby, Super Bowl, UFC, New York Fashion Week, The Open Championship, College Football Playoff, The Pro Football Hall of Fame, Breeders' Cup, Belmont Stakes, Barrett-Jackson, MotoGP, Presidents Cup and The Players Championship.