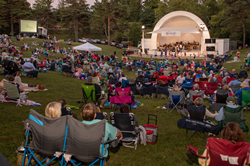 Authentically capturing the full sound of the original recordings creates an energy that is fueled by the fond memories — KSO Music Director James Cassidy.
NEWPORT, Ky. (PRWEB) July 03, 2019
The Kentucky Symphony Orchestra celebrates its 25th summer at Devou Park's 80-year old amphitheatre this Summer with three unique and universally popular programs.
The series opens July 13 with "Girls Just Wanna Have Fun." The KSO's Boogie Band (studio orchestra) was assembled 20 years ago to pump energy and fun into its annual fundraiser. Nostalgia is a powerful sentiment, and thanks to the efforts of arranger Terry LaBolt, this 27-piece group (including vocalists) today boasts a repertoire of 287 of the most popular songs of the last 60 years.
"When folks listen to pop tunes from past generations, they hear strings and horns played by studio session musicians who accompany the artist or group. Authentically capturing the full sound of the original recording creates an energy (for the audience and performer) that is fueled by the fond memories that these tunes elicit," noted KSO music director James Cassidy.
This time the KSO features its ladies — Mandy Gaines, Marci Hedges, Chris Shenton, Lesley Taylor and Michelle Wells. They will offer a multi-generational musical journey from Patsy Cline's 1961 classic "Crazy" to Taylor Swift's 2014 "Shake It Off" with tunes by girl bands En Vogue, The Bangles, The Weather Girls, and solo artists Whitney Houston, Karen Carpenter, Aretha Franklin, Adele, Patti LaBelle, Barbara Streisand and many more. (See complete playlist attached). So, whether you are a "Redneck Woman" or simply like to "Walk Like an Egyptian," call your gal pals and meet in Covington's Devou Park to "Express Yourself" and for a little "R-E-S-P-E-C-T." Feel free to sing along and show off your dance moves, if you dare.
Picnics are welcome, though soft drinks and concessions will be available. Join James Cassidy and the Boogie Band for the Symphony's 25th Summer (and Toyota's 20th summer as presenting sponsor) in Devou Park, Saturday, July 13 at 7:30 p.m. The TANK Shuttle from the Covington Catholic parking lot to the band shell runs from 6:00 -7:30 p.m (returning around 9:30 following the concert) for $1 each way. Bring blankets or lawn chairs. Free admission and parking, though donations are suggested. For more information, visit http://www.kyso.org or call (859) 431-6216.
For 27 years the Kentucky Symphony Orchestra has taken the "phony" out of symphony by eliminating traditional barriers and presenting engaging, live, thematic concerts that enrich, educate and entertain the residents of Northern Kentucky and Greater Cincinnati. The KSO performs three series of concerts annually throughout Northern Kentucky.