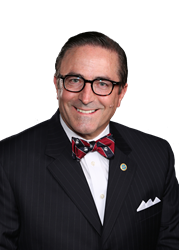 This unprecedented situation isn't going away any time soon. It is clear that collecting, analyzing and verifying data will be the key to creating new rent structures that will allow both retailers and landlords to fulfill their obligations to their customers and all of their stakeholders.
MANDEVILLE, La. (PRWEB) August 03, 2020
Retail real estate owners and managers continue to face unprecedented circumstances as a result of the ongoing increase in coronavirus cases, even as stores have in many areas reopened (and some may face closing once again). As U.S. retailers and shopping centers enter the sixth month of the pandemic, landlords are seeking more effective approaches for deferring partial rents into the fall, observes Kenneth S. Lamy, founder, president and CEO of The Lamy Group, an international financial management consulting firm specializing in retail and commercial real estate for more than 30 years. The key, he said, is effective collection, verification and analysis of data.
Those retailers who could take advantage of the first tranche of the Small Business Administration's Paycheck Protection Program in April, which permitted recipients to use up to 40% of the monies to pay rent, have exhausted those funds. If these companies also negotiated a three-month rent deferral, they shortly are coming up to full rents being due, even if they are conducting a fraction of their normal business, if any at all. Under these underperforming conditions brought on by the pandemic recession, the typical rent structure — minimum rent plus obligatory contributions by tenants for the shopping center's property taxes, insurance and common area expenses prorated in accordance with the tenant's occupied space — simply doesn't work, according to Lamy.
But landlords require those rents so they can pay their own obligations. The result is that the two sides will once again need to negotiate a way for both to survive and, eventually, thrive again, Lamy said.
"Just as the COVID-19 virus itself seems to be coming in waves so, too, are the resulting retail casualties," Lamy said. "For many tenants, especially entrepreneurs, the first round of assistance has been exhausted. But landlords have operating costs and mortgages — and a lease that requires at least some rent to be paid."
Restructuring can take several forms: deferral, abatement and outright forgiveness. But the only way to have an honest and productive partnership, he noted, is through data that will allow landlords to evaluate the health of the retailer and allow them to assess the amount and type of assistance that can be offered. "In other words," Lamy said, "They need information that will allow them to determine a fair rent that the tenant can afford during the period of decreased revenues."
That data is available: Many retailers and restaurants are required by lease to report sales to landlords on a monthly basis so that percentage rent, in addition to fixed minimum rent, can be determined. Those tenants that are not required by lease to report sales are likely to see this new requirement in a future lease amendment if rent relief is granted by the landlord.
"If they've requested rent relief in the past, they've also provided at least two years of previous sales figures, as well as monthly sales for 2020, including data for months preceding the onset of shelter-in-place orders," said Lamy, also founder and CEO of DataPoint International LLC (DPI), the creator of the EXETER™ Retail DataHub, a software-as-a-service (SaaS) platform that provides a comprehensive, "one standard system" for collecting, analyzing and certifying sales data from retailers and restaurant tenants with desired transparency.
"After decades of helping landlords to evaluate their tenants' health and negotiate various forms of rent relief, I saw that even in a people-oriented industry such as retail, data is key," Lamy said. "That's why my team and I developed EXETER, though I admit that I never thought how critical the data we collect would become during a global pandemic."
When landlords combine the real-time data with historical retail tenant data, they can judge the overall picture of a retail location's health.
The landlord can then analyze this data to determine if a retailer's financial woes result solely from COVID-19 or if there are other underlying challenges that could preclude an eventual recovery. The Lamy Group's proven retail methodology provides its landlord clients with a financial process to discover, analyze and confirm a retail tenant's status in order to make an informed, fair decision. For stores that are part of a larger chain, the methodology and financial process is applied to the parent company as well as the individual location in question.
The Lamy Group's retail-focused team of accountants, consultants and financial analysts prepare a report of an individual retail tenant's financial health and viability, typically within 36 hours. The firm's analysis includes specific key performance indicators that help a landlord assess a retail or restaurant tenant's ability to survive after it reopens.
Perhaps as important, basing negotiations and decisions on data can ease tensions during a stressful period for all. It has never been more important, Lamy noted, for landlords and tenants to forge a true, win-win partnership to navigate this crisis. For some retailers, that may be percentage-only rent for a period, for others a (partial) deferral for an additional period.
Regardless of the decision, it is clear that the ramifications of COVID-19 — stores and restaurants closing down again by government order, limitations on the number of customers permitted in the facility or even continued reluctance of shoppers to venture indoors — will continue to be an issue through 2020 and perhaps longer.
"This unprecedented situation isn't going away any time soon," Lamy said. "It is clear that collecting, analyzing and verifying data will be the key to creating new rent structures that will allow both retailers and landlords to fulfill their obligations to their customers and all of their stakeholders."
About The Lamy Group
The Lamy Group is a Mandeville, Louisiana-based international financial management consulting firm of certified public accountants, MBAs and other professionals. Founder, President and CEO Kenneth S. Lamy, CRRP, CRX is an instructor and volunteer for the International Council of Shopping Centers (ICSC) for more than 30 years. The Lamy Group specializes in customized financial retail sales, compliance and specialty examinations (tenant sales audits/revenue share/data verification) programs, ancillary revenue audits, retail property and sales analytics, restaurant consulting, including lease consulting and related compliance programs for clients. Clients include owners, developers, managers, publicly-traded real estate investment trusts (REITS), realty advisors and institutional investors throughout North America, the Caribbean and Mexico.