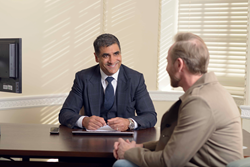 patients can rest assured that they will be treated by highly trained specialists with a strong track record of success in keyhole heart surgery
LONDON (PRWEB) July 09, 2020
The team at The Keyhole Heart Clinic have been hard at work putting the final touches to their completely redesigned website. The new site offers a multitude of user enhancements and streamlined navigation for a more intuitive user experience. There is a wealth of free downloadable information available with easy to navigate menus which will allow patients to find the information they need quickly. Of particular interest is the unique 6 day video series designed to assist patients in navigating the different choices of heart valve replacement when treating a very common but very dangerous condition called aortic stenosis.
Working in partnership with The Keyhole Heart Clinic, the team at Absolute Digital Media have helped bring to life a joint vision of a fully functional, world-class website that has improved on the UX experience of the previous build. Taking a simplified approach that has reduced unnecessary noise and made improvements to menu navigation, site-speed and overall functionality, the new look has been purpose built to assist patients who need essential advice and information on many aspects of heart disorders.
The new site features the work and profiles of a world class team of head hunted Cardiologists and Heart Surgeons who are internationally recognised in their respective fields which means that The Keyhole Heart Clinic is uniquely placed to offer patients direct access to the most experienced keyhole heart surgery team in the UK.
Keyhole heart surgery is no longer experimental and there is a vast amount of published data that has proven its benefit and safety when performed by experienced teams. In this setting, keyhole heart surgery results in a faster recovery time with tiny surgical wounds healing within 7 days compared to 12 weeks when surgery is performed through the traditional breastbone cut. Keyhole heart surgery also means no risk of bone infection, less pain and smaller and more subtle scarring in its approach compared to traditional more invasive heart surgery techniques. Also on offer are advanced transcatheter keyhole treatments including TAVI and MitraClip. Through careful assessment and consultation, the clinical team ensure that the very best treatment is offered to patients based upon their individual clinical needs and our deep understanding of up to date clinical evidence.
Founder, Director and Clinical Lead Inder Birdi is an Internationally recognised Heart Surgeon with more than 17 years of clinical experience in keyhole heart surgery says:
"The Clinic already has an established reputation and experience in helping patients with all types of heart disorders. The doctors can be seen either face to face in clinic or remotely online. The breadth of expertise within the team means that the full range of keyhole heart procedures that are available can be delivered safely and effectively. Patients can rest assured that they will be treated by highly trained specialists with a strong track record of success in keyhole heart surgery."
The Keyhole Heart Clinic offers its services in a number of prestigious hospitals in London, including The Harley Street Clinic, a location of international acclaim which also holds the award of clinical excellence by The Care Quality Commission. Only a handful of centres in the UK have been awarded with this recognition. With their facilities conveniently located 10 minutes from Kings Cross station, they occupy a central London location and are surrounded by a multidisciplinary team of doctors in all specialities, which makes The Keyhole Heart Clinic at Harley Street the ideal choice for international patients seeking specialist world class diagnosis and treatment. All of our venues offer strict COVID-19 infection control of the highest standards giving patients the added confidence and reassurance that they can now pursue their treatment safely.