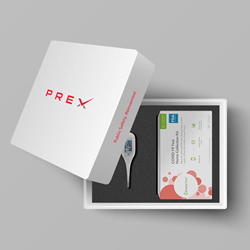 KERSHAW COUNTY, S.C. (PRWEB) September 04, 2020
X.Labs, the leader in next-generation public safety threat detection and digital healthcare technologies, has deployed PreCheck to monitor the health of over 800 teachers and staff members in the Kershaw County Public School District to isolate and prevent the spread of the deadly pandemic.
PreCheck maximizes the safety of each classroom and showcases Kershaw Schools' readiness and willingness to step up the fight. As America's first public school district to provide testing, smart temperature reading and wellness surveys to their teachers through the PreCheck mobile app, Kershaw County has taken the initiative to lead with new approaches to combat the deadly disease.
PreCheck users take their temperature remotely with an FDA-approved, Bluetooth-enabled smart thermometer, and fill out customized wellness surveys within the accompanying PreCheck app to easily gain access to everyday venues such as workplaces, restaurants, gyms, event spaces, schools and government facilities. Users may also add an at home infectious disease test.
Cumulatively, PreCheck's tools build and display each user's "digital health ID," a snapshot of their current infectious disease status. As traditional security measures evolved in response to the 9/11 terror attacks, health security has emerged as the newest dire risk to solve in our post-pandemic society. Nearly 200,000 Americans have lost their lives due to coronavirus, roughly sixty times as many that perished in the 9/11 attacks. Bolted airplane cockpit doors, various enhanced screening at airports and event venues, and other aspects of increased preventative security became standard practice in the aftermath of 9/11. PreCheck provides the toolset for similarly upgraded measures of security for digital health identification to minimize the transmission of deadly disease and the accompanying catastrophic loss of life.
Kershaw School District has taken proactive bold steps into this new normal through Precheck's footprinting of each user's digital health ID.
"PreCheck is a game-changer in allowing us to not only mitigate risks in our schools, but track data when exposure occurs," explained Kershaw County School District Superintendent, Shane Robbins. "The health and safety of our students and staff are a priority."
"Prevention beats cure—that is our fundamental ideology," stated Todd Dunphy, COO of X.Labs, the developer of Precheck technology. "Everyone on my team has kids – we are essentially a group of parents who knew we could help solve this terrifying school safety problem through our COVID-detection technology. Kershaw County has shown real leadership by prioritizing the safety of their students and staff in working with us to address and mitigate the lingering threat of this pandemic."
As reopened schools are a cornerstone of a reopened economy, controlling the spread in classrooms is the next step in returning to normal. The economic impact of the coronavirus pandemic is stunning, exceeding an estimated $3 trillion, and will undoubtedly reverberate for years. The sooner schools can open safely, the sooner kids will be out of the house, and the sooner that parents can return to work and the engine of American economic activity can resume in earnest.
The implementation of PreCheck in American schools will help accelerate these key milestones towards recovery and renaissance.
About X.Labs
X.Labs is the leader in next-generation public safety threat detection and digital healthcare technologies and is a company dedicated to the development of cutting edge, high-speed checkpoint systems that detect emerging threats to civilians, buildings and law enforcement. The company's patented thermography products are uniquely capable of detecting elevated temperature with their industry leading, mobile based fever detection product feevr. The company's revolutionary PreCheck app combines an individual's temperature reading, viral testing and other health and safety data that helps keep buildings safer and businesses in compliance. Their patented millimeter wave detection technology X1, and XLe for Law Enforcement, detects concealed threats including weapons and explosive devices combined with advanced facial recognition and gunshot detection capabilities. X.Labs customers include Fortune 100 companies, entertainment venues, schools, international airports, airlines, stadiums, corporations, hospitals, large-scale events and national landmarks around the globe. Visit https://xlabs.tech for more information.
Media Contact for X.Labs:
Dylan Breslin-Barnhart
551.666.3262
dbb@xlabs.tech