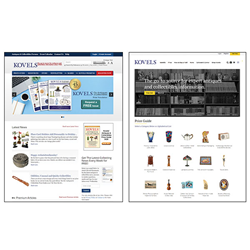 CLEVELAND (PRWEB) December 30, 2019
After months of hard work, the Kovels' antiques and collectibles team is looking forward to the unveiling of a new Kovels.com! Kovels' readers belong to a community of more than a million enthusiastic collectors and many changes were made based on their feedback. One of the biggest is the reorganization of the Kovels' information "library"—all of their articles, advice and tools—into logical categories that can help collectors identify, price, buy and sell.
The new Kovels.com will

offer readers a more up-to-date look with sleek text and bigger pictures;
help users more easily find the resources on a PC or mobile device needed to be happier, more successful collectors.
As leaders in the antiques and collectibles industry, the new Kovels.com will make their knowledge and expertise even more enjoyable and accessible. The Kovels can't wait to show off the new Kovels.com!
Terry Kovel is America's foremost authority on antiques and collectibles. She is the well-known columnist and author of more than 100 books on antiques and collecting. Kovels' Antiques & Collectibles Price Guide 2020 is now available at Kovels.com and local bookstores. This all-new 52nd edition of Kovels' popular annual price guide features 16,000 prices, 500 marks, and more than 2,500 photos, larger than ever before, of items in 700+ categories most sought-after by collectors. Terry Kovel will discuss antiques and collectibles topics with accredited media. Photographs are available. Contact pr(at)kovels(dot)com.
About Kovels.com
Kovels.com, created by Terry Kovel and her daughter, Kim Kovel, provides collectors and researchers with up-to-date and accurate information on antiques and collectibles. The company was founded in 1953 by Terry Kovel and her late husband, Ralph. Since then, the Kovels have written some of America's most popular books and articles about antiques, including the best-selling annual Kovels' Antiques & Collectibles Price Guide. The website, Kovels.com, online since 1998, offers readers more than a million prices, auction reports, buyers' and identification guides, and a marks dictionary. It also includes a free weekly email, Kovels Komments, that gives readers a bird's-eye view of the market through the latest news, readers' questions and answers, and much more.
Contact Information:
Liz Lillis
216.752.2252
Pr(at)kovels(dot)com