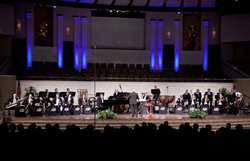 "I extract the essential juices from a symphonic work, filter them through my own experience, combine them with a jazz flavor and reconstruct them in a new order." — Don Sebesky
NEWPORT, Ky. (PRWEB) October 09, 2019
The Kentucky Symphony Orchestra prides itself on offering unusual and unique repertoire and blurring genres. The orchestra's 28th season opener continues this trend. A generation ago (1950-70s), jazz musicians and arrangers were having fun re-imagining revered classical works by adding a fresh, liberating harmonic and instrumentally diverse color pallette.
Grammy and Tony award-winning orchestrator Don Sebesky held Bach, Bartok Mussorgsky, Rachmaninoff and Stravinsky in high regard. Sebesky arranged several of their works for big band and jazz soloists with orchestra. He recorded several of his re-orchestrations in London with the Royal Philharmonic Orchestra. The actual music for recording projects or films of the past was not digitized, and only remained extant in handwritten scores. Such original scores were supplied by the Don Sebesky archive held at William Patterson University. Some of his arrangements on this program are receiving their first live performances since their studio recordings.
"I extract the essential juices from a symphonic work, filter them through my own experience, combine them with a jazz flavor and reconstruct them in a new order."
—
Don Sebesky
The program opens with Billy May's rollicking swing version of Brahms' Hungarian Dance No. 5, followed by Don Sebesky's jazz band orchestration of themes taken from Mussorgsky's Pictures at an Exhibition. Jazz soloists Hal Melia (flute) and Greg Wing (trumpet) are featured along with some highwire blues riffs in the strings in Sebesky's take on Stravinsky's famous ballet The Firebird, which he titles "Bird of Fire." His orchestration of Rachmaninoff's hauntingly beautiful "Vocalise" will showcase the artistry of Sonny Burnette (alto sax) and Brandon Coleman (guitar).
The second act opens with Eumir Deodato's 1973 free adaptation of Debussy's Prelude to the Afternoon of a Faun. The original recording featured jazz legends — Hubert Laws, Ron Carter, Marvin Stamm and Deodato. Recreating this atmospheric work are Hal Melia (flute), Mike Sharfe (bass), Matt Anklan (trumpet), and Ben Tweedt (keys). Sebesky also tackled Stravinsky's pagan ballet The Rite of Spring. His interpretation of this war horse features Dominic Marino (trombone) and Matt Anklin (trumpet). A soaring romantic recomposition of a J.S. Bach melody "Sebastian's Theme" rounds out the evening. There may even be a surprise encore that peels the paint off the walls.
The Kentucky Symphony Orchestra brings the cool to the classics at Greaves Concert Hall with Classical-Jazz Soufflé at 7:30 p.m., Saturday, Ocobter 19, at NKU, Highland Heights, KY. Reserved seating tickets are $19, $27, $35 (children ages 6-18 are 50% off) and are available online at kyso.org, by phone —(859) 431-6216, or at the door.
About the KSO:
For 27 years the Kentucky Symphony Orchestra has taken the "phony" out of symphony by eliminating traditional barriers and presenting engaging, live, thematic concerts that enrich, educate and entertain the residents of Northern Kentucky and Greater Cincinnati. The KSO performs three series of concerts annually throughout Northern Kentucky.