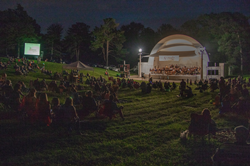 "It's rare to hear outdoor classical symphony concerts in smaller markets these days." — James Cassidy
NEWPORT BEACH, Calif. (PRWEB) August 21, 2019
The Kentucky Symphony Orchestra closes its 25th summer in Devou Park with the full symphony on-stage performing famous Russian orchestral hits.
From the 1840s through the 1960s Russian composers from Glinka to Shostakovich added greatly to the symphonic repertoire. Many of the famous classical tunes everyone knows and associates with the romantic music which flowed from the imaginations and pens of Tchaikovsky, Borodin, Rimsky-Korsakov, Khachaturian and many others.
First up is Aram Khachaturian's Masquerade Suite of 1941 in which each of the five movements depicts a different mood and setting, beginning with the rich minor opening waltz to the frenetic, comedic, final Galop. Next, the wonderful, exotic Polovtsian Dances of chemist / composer Alexander Borodin (from his opera Prince Igor) roar forth with the pounding timpani alternating with the melancholy tune used in the popular song "Strangers in Paradise" from the Broadway musical, all based on Borodin's music, titled Kismet.
After intermission, the strains of a solo violin will bewitch the crowd as Scheherazade mystifies the Sultan with 1001 nights of wondrous tales and stories of Arabia. Nikolai Rimsky-Korsakov captures the Middle Eastern mystique and Scheherazade's feminine wiles, penning a vivid, colorful tone painting that includes her accounts of Sinbad, princes/princesses, Baghdad and the sea.
"It's rare to hear outdoor classical symphony concerts in smaller markets these days. Symphony park concerts used to be a Summer staple even here in Cincinnati. Tricky logistics, unpredictable weather, costs and lack of revenue associated with playing outside made lawn concerts scarce. The KSO believes such gatherings are important to the community and families," said KSO Music Director, James Cassidy.
See... Russians aren't so bad. They gave us all this great music. So, galop over to Devou Park on Saturday, August 31. Maybe sport a Cossack or Polovtsi dancer look, and relax on the lawn as the KSO plays your friends and family a seductive bedtime story.
Picnics are welcome, though drinks and concessions will be available. Join James Cassidy and the KSO for the Symphony's 25th Summer finale in Devou Park, Saturday, August 31, at 7:30 p.m. The TANK Shuttle from the Covington Catholic parking lot to the band shell runs from 6:00 -7:30 p.m (returning around 9:30 following the concert) for $1 each way. Bring blankets or lawn chairs. Free admission and parking, though donations are suggested. For more information, visit the KSO at http://www.kyso.org or call (859) 431-6216.