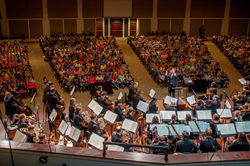 "Many students have told me this is one of the best field trips they have been on. They loved it!"— Holly Nibert, Goodridge Elementary
NEWPORT, Ky. (PRWEB) October 25, 2019
In 1995 the Northern Kentucky Symphony (now the Kentucky Symphony Orchestra) launched its free education series for Northern Kentucky Schools (public, parochial and private), with "Getting to Know You" (an introduction to the instruments of the orchestra). KSO Music/Executive Director and founder James Cassidy felt that in order to make attending concerts more relevant for future audiences, young people need to experience and learn about the orchestra, its storied musical history and how it relates to them. Making sure cost was not a barrier, Northern Kentucky's professional orchestra offered these programs at no charge to the school or students. To date the KSO has performed free concerts for 142,069 students from 252 individual schools.
On October 29 & 30 at 9:30 & 11 a.m. at 7 Hills Church in Florence, KY, the KSO will present its Halloween edition of the introduction to the instruments of the orchestra, in which students learn about different families of instruments — from what materials they are made, how they actually produce a sound, etc. The production team at 7 Hills Church is assisting with a live video feed that will allow students and teachers to see individual musicians and sections up close during the concert.
The Halloween edition, opens with Paul Dukas' "The Sorcerer's Apprentice" which includes a narration to guide the audience through the magical tone painting made famous by Mickey Mouse's iconic portrayal of the apprentice in Disney's Fantasia. Troy Hitch, former actor and now Chief Global Innovation Officer for Proximity Worldwide narrates, and even brings the Harry Potter characters to life as the KSO performs John Williams' Children's Suite from Harry Potter and the Sorcerer's Stone.
All KSO Education concerts include a Q&A session in which any student or teacher can ask any musician on stage or the conductor a question about the music, instrument, what they heard, saw or don't understand. The open format, with wireless microphones in the crowd, removes any barrier between the audience and performer.
Wonderful charitable foundations and corporations over the past 25 years have generously supported the KSO's efforts in the schools. This year the Charles H. Dater Foundation, the R.C. Durr Foundation, the Elsa Heisel Sule Foundation and Maxwell C. Weaver Foundation have come together to underwrite 6 concerts to be attended by more than 60 schools from across the Tristate in October and February.
The KSO series still includes (alternating years) "Back in My Day" (a historical survey of the orchestra and its music from Handel to Hans Zimmer). Through the mid to late 2000s, the KSO offered a high school program —"Ask Me if I Care" (the relevance of symphonic music) — and proved, to an initially indifferent audience, the ubiquitous aspect of symphonic music and how it related to them via ceremonies (graduation, wedding), church services, movie and cartoon soundtracks, even pop songs.
Due to high school scheduling difficulties and logistics involving the full orchestra, the KSO now offers secondary schools the opportunity to learn about the roots of America's popular musical heritage with "Rags to Riches." This program, performed by the KSO's Newport Ragtime Band, covers the development of ragtime, blues, Dixieland, and early jazz. The authentic performance includes a video accompaniment as well as national and local Cincinnati history and stories of perseverance in an upbeat and participatory learning experience. These free morning shows will take place February 25, 2020 at the National Underground Railroad Freedom Center in Cincinnati, OH.
Teachers are provided with printed programs to distribute to each student back in class, as well as a survey that they complete and return to provide the KSO and its funders important feedback. Students are also encouraged to write reviews. Here are a few recent teacher comments:
"This program was superb in every way. It was one of the most kid-friendly programs I've seen. The musicians did an outstanding job with some difficult repertoire. The narration was also a great addition and enhanced the music. The Kentucky Symphony Orchestra is a blessing to music educators. It provides high-quality music for students who would probably never get to hear it otherwise." — Jonathan Creech, Crittenden-Mt. Zion Elementary
"Many students have told me this is one of the best field trips they have been on. They loved it!"— Holly Nibert, Goodridge Elementary
The program was top notch! Extremely professional performance of relevant and engaging material combined with relaxed, comfortable atmosphere that was educational AND FUN! The selections allowed awesome displays of each instrument family and allowed our students to see and hear so many combinations of the instruments at work. Our kids would likely NOT have an opportunity to hear an orchestra live otherwise! The experience gives them an appreciation for symphonic music and a more genuine understanding of the skill required to compose for and perform in such an ensemble. — Laura Max, Sayler Park Elementary
The KSO thanks its funders, the venues and staff and volunteers for sharing the orchestra's efforts with young people across our region. Together we are making memories for life.