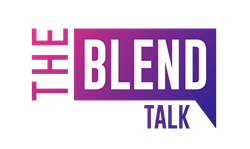 We are digging deep into the real you, going beyond the surface, offering insight into the issues that you don't see with the naked eye. We are looking at how these issues affect the whole person.--LaVonda Rouse
LOS ANGELES (PRWEB) April 21, 2021
The ladies of The Blend Talk, an inspirational web-television talk show get remote ready for season 2 premiering April 28, 2021, at 4 PM PST/7 PM ET streaming on Facebook and Affirmed TV.
Created and produced by veteran entertainment executive LaVonda P. Rouse, The Blend Talk is a one-hour weekly inspirational web-based television talk show with a twist of entertainment, created solely to encourage women to be intentional about being whole while empowering and healing from the inside and out.
The show takes on contemporary issues with a fresh view going beyond the obvious. Additionally, the show's robust social media platforms will provide a space for viewers to discuss and share their experiences while learning more about the topics discussed in each episode.
The hosts include a dynamic panel of three African-American experts. Dr. Lisa Lewis, ND, MBA, Lac, and CEO of the Lewis Healing Institute, and owner of Nature Drs Nutritionals; Jewel Diamond Taylor, aka The Self-esteem Doctor, is a life coach, counselor, spiritual coach, emotional-wellness and relationships talk therapist, and founder of Women on the Grow, Inc., and newcomer Karen McGibbon, Ph.D., LPC, NCC, and CEO and Founder of Live Free Coaching & Counseling Services, and the Assistant Professor of Clinical Counseling at Winebrenner Theological Seminary in Findlay, Ohio.
Unlike other talk shows, the ladies have a different kind of conversation. They take a holistic approach to discuss the spirit, mind, and body related to faith, health, wellness, fitness, relationships, family, life-work balance, and other poignant lifestyle topics.
Furthermore, they take an unapologetic approach, offering advice based on the whole person, acknowledging that everything that happens to a person is the result of past experiences or events in the present.
"The Blend Talk provides our viewers food for the spirit, mind, and body," explains Rouse. "The premise for this show is that we are all inherently spiritual beings. We are digging deep into the real you, going beyond the surface, offering insight into the issues that you don't see with the naked eye. We are looking at how these issues affect the whole person."
For more information, visit http://www.theblendtalk.com.