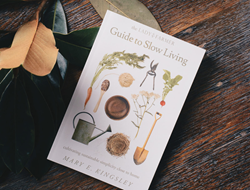 We have evolved from a more "circular" mindset in our consumer behavior to a full-on "linear" economy, in which we are addicted to our need for cheap, mass-produced goods that have only one direction to go—from production to use to disposal in a landfill.
WASHINGTON (PRWEB) March 31, 2020
Lady Farmer is a sustainable apparel and lifestyle brand, co-founded by mother/daughter team Mary and Emma Kingsley. Their mission is to cultivate community for those seeking independence from existing food and fashion systems that are harmful to the planet and its people.
The Lady Farmer Guide to Slow Living is a guide for individuals seeking a life of beauty, simplicity, and sustainability - whether they live on a farm, in a city or the suburbs. In this inspiring lifestyle handbook, Mary Kingsley - novelist, wife, mother, and homesteader - discusses the history of humanity's relationship with the natural world and how we can return to the concept of "slow living" to improve our health and the health of our planet.
Complementing the recent book launch, Lady Farmer's podcast The Good Dirt launched in January of 2020 and is available on the iHeart Radio app, Spotify, Apple Podcasts, Stitcher, and TuneIn. The podcast offers lively discussions from expert interviews that offer actionable takeaways to make our lives and the planet a little better.
Lady Farmer offers functional, fashionable clothing and products for the intentional lifestyle, and a resource for the modern woman of all ages who yearns for a simpler way of life. Lady Farmer apparel is a sustainable alternative to fast fashion and its harmful effects on human health and the environment.
The newest book by Lady Farmer is available in their online shop at http://www.lady-farmer.com/shop.