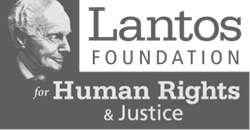 The Lantos Foundation was established to continue Tom Lantos' proud legacy as an ardent champion for human rights by carrying, in his words, "the noble banner of human rights to every corner of the world."
WASHINGTON (PRWEB) November 30, 2018
MEDIA ADVISORY FOR DECEMBER 5, 2018
ATTN: NEWS/ASSIGNMENT/PHOTO EDITORS
WHAT:
The Lantos Foundation for Human Rights and Justice's 10th Anniversary Gala celebration, an evening honoring the human rights legacy of Congressman Tom Lantos and those who continue the fight.
WHO:
Vice President Joe Biden, Inaugural Recipient of the Decennial Lantos Legacy Award.
Joshua Wong, Hong Kong democratic activist who was sentenced to prison as the leader of the mass democracy protests known as the Umbrella Movement, a 79-day occupation of the city demanding freer elections and greater political autonomy.
(Nathan Law, Hong Kong's youngest lawmaker, who was removed from office and imprisoned and Agnes Chow, who was barred from office for her activism will jointly accept the award for Joshua, whose passport is being held by the government to prevent him from traveling abroad.)
Dr. Katrina Lantos Swett, President of the Lantos Foundation, Former Chair and Vice Chair of the United States Commission on International Religious Freedom.
Rebiya Kadeer, imprisoned for six years in China for her activism on behalf of the Uyghurs of JinXiang Province. She spent two of those years in solitary confinement, and now lives in exile in Washington, DC.
Chen Guangcheng, A Chinese dissident, blind since childhood, imprisoned in 2005 for exposing forced sterilization of women under China's one-child policy. In 2012, he escaped from house arrest and was granted asylum in the United States.
Vladimir Kara-Murza, A Russian opposition activist engaged in promoting civil society and democracy in Russia. For the second time, after becoming suddenly ill at a meeting in Moscow, Kara-Murza was diagnosed by the hospital with "toxic influence of an unknown substance."
More than 30 other dissidents and political prisoners from around the world will be in attendance.
WHEN: Wednesday, December 5, 2018 at 7:00 pm
WHERE: The Willard Hotel, 1401 Pennsylvania Ave NW, Washington, DC 20004
The Lantos Foundation was established in 2008 to further the legacy of Tom Lantos, the only Holocaust survivor ever to serve in Congress. In addition to his service as Chairman of the House Foreign Affairs Committee and Founder of the Congressional Human Rights Caucus, Tom Lantos will be long remembered for his profound moral convictions and his deep commitment to human rights. His fervent belief was that the U.S.'s steadfast devotion to those values of decency, dignity, and freedom that make us both the strongest and the most hopeful nation on the face of the earth. Tom believed this with every fiber of his being, and through the work of the Foundation we can, in Tom's words, carry "the noble banner of human rights to every corner of the world." We focus our work on four pillars that represent the major themes of Tom's work: Religious Freedom, Rule of Law, Global Citizenship and the Lantos Legacy.