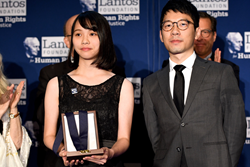 "Hong Kong is at the symbolic forefront of the clash between authoritarian rules and democratic values. Fighting for democracy in Hong Kong is not only in our country's best interest, but it is crucial for the world." -- Agnes Chow & Nathan Law
WASHINGTON (PRWEB) December 07, 2018
The Lantos Foundation for Human Rights and Justice's 10th Anniversary Gala celebration was held at the Willard Hotel on Wednesday, December 5, 2018. In a room full of Members of Congress, human rights activists, dissidents, members of the media and supporters, Joshua Wong, a Hong Kong activist was presented the 2018 Lantos Human Rights Prize in absentia.
In January 2018, Joshua Wong was sentenced to three months in prison for leading the mass democracy protests known as the Umbrella Movement, a 79-day occupation of the city demanding freer elections and greater political autonomy. He is appealing that conviction, and is currently out on bail. As a condition of his bail, Wong surrendered his passport to the court. Documents show the court has denied his request to travel to the United States to receive the Lantos Prize.
Wong's friends and fellow leaders of Demosisto, Nathan Law, once Hong Kong's youngest lawmaker who was removed from office when Beijing deemed his oath of office "insincere", and Agnes Chow, who was barred from seeking political office for her activism, jointly accepted the award on Wong's behalf.
"Hong Kong is at the symbolic forefront of the clash between authoritarian rules and democratic values. Fighting for democracy in Hong Kong is not only in our country's best interest, but it is crucial for the world that we introduce rule of law and democracy to China by safeguarding it in Hong Kong," Law and Chow said in their jointly delivered remarks.
U.S. House Democratic Leader Nancy Pelosi spoke at the event adding that Joshua Wong "has faced incarceration, intimidation and harassment for his peaceful work to put Hong Kong on the path to a more free, democratic future. America has a moral duty to speak out in defense of the human rights, political rights and dignity of the people of Hong Kong."
Dr. Katrina Lantos-Swett, President of the Lantos Foundation, said, "Joshua Wong's inspirational mobilization of over 100,000 Hong Kongers to engage in peaceful protests on behalf of democracy and the rule of law has galvanized a generation of young people to become activists and to peacefully resist Chinese control of their government. He richly deserves the 2018 Lantos Human Rights Prize and we look forward to following this young leader's trajectory."
About The Lantos Foundation: The Lantos Foundation was established in 2008 to further the legacy of Tom Lantos, the only Holocaust survivor ever to serve in Congress. In addition to his service as Chairman of the House Foreign Affairs Committee and Founder of the Congressional Human Rights Caucus, Tom Lantos will be long remembered for his profound moral convictions and his deep commitment to human rights. We focus our work on four pillars that represent the major themes of Tom's work: Religious Freedom, Rule of Law, Global Citizenship and the Lantos Legacy.