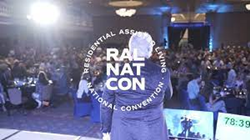 "Unlike the 2020 virtual convention, which was a success, people are extra excited about coming to a live event," said RAL Academy Chief Operating Officer Isabelle Guarino. "Now we have a 3rd keynote speaker and a major industry announcement."
TEMPE, Ariz. (PRWEB) April 07, 2021
Once a year, RAL NAT CON hosts its largest residential assisted living event. Investors, vendors, assisted living homeowners, operators and other industry influencers assemble to advance the industry. Leaders set new trends, discuss innovative technologies for quality senior living, and outline past advancements and future projections.
Live In-person Event Setting New Trends For Senior Living
"Unlike the 2020 virtual convention, which was a success, people are extra excited about coming to a live event," said RAL Academy Chief Operating Officer Isabelle Guarino. "Now we have a 3rd keynote speaker and a major industry announcement." In addition to Alzheimer's and dementia expert Teepa Snow and New York Times bestselling author Gary Chapman, event planners have added Brent Kesler to the keynote speakers' lineup. Kesler implemented The Money Multiplier (TMM) method of managing and growing wealth. His strategy enabled him to pay off almost $1 million in debt within 39 months. For the past seven years, the licensed chiropractor travels nationwide, lecturing thousands of entrepreneurs about his powerful TMM method of taking control of your financial life. Break the bonds of economic slavery with Brent Kesler.
High-impact Opportunity For Real Estate Entrepreneurs
The event is power-packed with lots of fun, cocktail parties, cigars under the stars, raffles & prizes, and an annual awards gala. Register now while seats are available to mix and mingle with other movers and shakers. The event is also an opportunity for assisted living entrepreneurs to network with industry leaders executing at the highest business level. Learn from renowned keynote speakers and over 30 industry experts during a 3-day high-energy experience. Visit http://www.RALNATCON.com to learn more and register before the life-changing event sellout.
REGISTER TO ATTEND:
http://www.RALNATCON.com
Arizona Grand Resort
8000 Arizona Grand Pkwy, Phoenix, AZ 85044
September 31st – October 2nd, 2021
Thursday – Saturday
725-210-0755