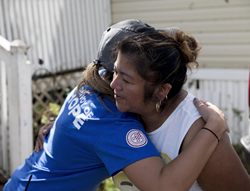 The Larson Group, a Peterbilt dealership company with four locations in North and South Carolina, is contributing $100,000 to Convoy of Hope's Hurricane Florence disaster relief efforts as well as a donation match campaign.
SPRINGFIELD, Mo. (PRWEB) September 29, 2018
The Larson Group recently announced it will donate $100,000 to nonprofit organization Convoy of Hope to help further Hurricane Florence relief efforts. In addition to its significant donation, TLG has kicked off a campaign alongside Convoy of Hope to encourage employee and customer contributions up to an additional $100,000 through Friday, October 19.
The Peterbilt dealership company's donation to Convoy of Hope is in response to damage and displacement caused by Hurricane Florence, which hit North and South Carolina earlier this month. TLG operates four locations in North and South Carolina, which employ more than 150 TLG team members.
"Many of our Peterbilt of Raleigh, Nc. employees commute to work from the affected areas, and we are blessed that all made it through the storm safely," said TLG Southeast Regional Vice President Randy Kirk. "However, the coastal communities we serve that were devastated by Hurricane Florence need and will continue to need relief. We hope our partnership with Convoy of Hope will help restore them."
Kirk continued, "We take care of our customers just as much as we do our employees. We want our North and South Carolina customers to be successful, and they cannot be successful without the thriving communities they serve."
To further promote the donation campaign, Convoy of Hope has established a web page where friends, customers, and employees of TLG Peterbilt can make secure contributions. The page is accessible at convoyofhope.org/tlg. Donors can also make contributions by calling (417) 823 8998 or mailing a check to Convoy of Hope's Springfield office at PO Box 1125, Springfield, Mo., 65801.
TLG President Glenn Larson said, "As a family-owned company, we think it's vital to give back to our community and support the terrific work our neighbors do. Convoy of Hope was there for our Joplin, Missouri community in 2011, and they have been with our North and South Carolina communities since before the storm hit. We cannot think of a more appropriate organization and cause to support."
Convoy of Hope's Disaster Relief Efforts in the Carolinas
Since Hurricane Florence's landfall on September 14, Convoy of Hope has directly served more than 62,000 individuals and distributed more than 1.2 million pounds of relief supplies to shelters, the National Guard, Emergency Operation Centers, and neighborhoods. Over 1,700 Convoy of Hope volunteers have dedicated 8,300 hours of time to assisting relief efforts in 26 North Carolina communities and one South Carolina community.
"The resilient and dedicated Convoy of Hope crew continues to do phenomenal work as the rebuilding period in the Carolinas begins," said Larson. "We hope this campaign will bring aid to those communities that were displaced and affected by the storm in rebuilding their lives."
About Convoy of Hope
Convoy of Hope is a faith-based organization with a driving passion to feed the world. With a long history as an early responder in times of natural disasters, Convoy of Hope has been a Four Star Charity as recognized by Charity Navigator for 15 consecutive years. Convoy of Hope has served more than 100 million people since it was founded in 1994. For more information please visit convoyofhope.org.
About The Larson Group Peterbilt
The Larson Group has been providing quality Peterbilt products and exceptional service across the Midwest and Southeast for more than 30 years. TLG has built teams of qualified, highly trained professionals to provide customers the best service for their commercial transportation needs at 18 Peterbilt facilities located across Arkansas, Illinois, Indiana, Kentucky, Missouri, North Carolina, South Carolina and Ohio.
For more information about The Larson Group's Peterbilt parts inventory or to experience its exemplary customer service first-hand, call 417.865.5355, visit www(dot)TLGtrucks(dot)com or contact Marketing Manager Stephanie London at slondon(at)tlgtrucks(dot)com.