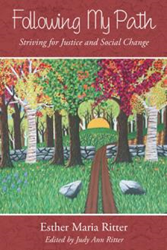 STURGEON BAY, Wis. (PRWEB) March 10, 2020
Late author Esther Maria Ritter makes her posthumous debut with the help of her sister-in-law, Judy Ritter. She launches "Following My Path" (published by LifeRich Publishing), where she narrates about her work as an activist despite being diagnosed with a fatal and lingering disease. Visit https://www.amazon.com/Following-My-Path-Striving-Justice-ebook/dp/B082YSH8K4 to know more about her story.
All her life, Ritter has been an activist crusading for positive political and social change. Her journal details the time she began to lead others through her experiences. It also included the times she was living in a commune for three years where she was active in grassroots anti-nuclear movement and other protests. However, she was faced with a trial that could hinder her from continuing her work.
Ritter was diagnosed with Lou Gehrig's disease, also known as amyotrophic lateral sclerosis (ALS), at the age of 38. At that time, she found herself at a crossroads. Could she continue her activism and overcome her fear of death? She persevered with the cause she believed in as she is determined to fight for what is right though disabled.
Though written between the 1970s and 1980s, the book is relevant today as social and political activism is now on-the-rise. There are more causes we should fight today such as gender equality, climate activism and diversity. With the publication of "Following My Path," the late author encourages the youth to do what they can to fight for positive change.
"Regardless of the challenges you face in life, don't give up. Continue on your path and with God's help, live your life the best you can, helping others," her sister-in-law Judy Ritter says. "This is what Esther would wish for all of us."
"Following My Path"
By Esther Maria Ritter
Hardcover | 6x9 in | 174 pages | ISBN 9781489725820
Softcover | 6x9 in | 174 pages | ISBN 9781489725806
E-Book | 174 pages | ISBN 9781489725813
Available at Amazon and Barnes & Noble
About the Author
Esther Maria Ritter was born in Zürich, Switzerland, and in 1949, immigrated to the United States with her family at age 6. An avid writer from an early age, she chronicled her life in diaries as a teenager and in journals throughout her adult life. Ritter passed away on October 1, 2005.
LifeRich Publishing, the strategic publishing partnership of Reader's Digest and Author Solutions, LLC, was created to provide all writers a platform for sharing their stories, recipes, advice and more. LifeRich authors will benefit from a wealth of editorial design, marketing and education resources, specially created by Reader's Digest editors for the enrichment of these LifeSmart individuals. Books can be published in print, ebook or audio formats, with additional distribution to up to 25 million Reader's Digest customers through its online properties. For more information or to publish a book, please visit liferichpublishing.com or call 1-888-238-8637.