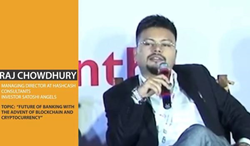 SAN FRANCISCO (PRWEB) August 08, 2018
In the world of cryptocurrencies, change remains perpetual and Billion-dollar fortunes continue to materialize or vaporize overnight.
One trend, however, appears to hold good. Today's Crypto-Billionaires come in one of the few flavors.
They either are the creators of a new blockchain network with the native digital asset trading in the market or they are the founders of Exchanges hosting digital assets.
In many cases, investors who recognized the opportunity before the crypto mania started are major winners. Early Miners of crypto-assets and top executives of major blockchain companies also sometimes make it to the list of billionaires.
The newest entrant to this club is both the founder of a new Blockchain network and the operator of an Exchange.
Managing Director of HashCash, Raj Chowdhury at 34, is an investor and is rumored to be a majority shareholder in this California company that has tied up with some of the largest Banks, Currency exchanges, Corporations and Payment networks on its blockchain network, HC NET.
The native digital asset of the network, HCX has approached 30 US cents following its launch on the month of March 2018. HashCash has pledged 90% or 90 Billion of HCX in an escrow for distribution and holds 10% or 10 Billion of the HCXs.
At a price of 20-30c, the net value of 10 Billion HCX is around 2-3 Billion USD.
As a majority shareholder, Raj Chowdhury's worth is estimated at 1-2 Billion USD. He is also known to be an early investor in cryptocurrencies but the value of his portfolio is not public.
Chowdhury started with relatively humble means in the suburbs of densely populated Indian city, Kolkata. He moved to Silicon Valley where h,e acquired early wealth through the acquisition of his startup companies.
He invested in HashCash in 2015 when the company had just signed up consulting contracts with a handful of enterprises. In the same year he came back to India and joined ICICI Bank, India's largest private sector bank. Under his leadership, ICICI Bank became the first bank in the region to implement blockchain for remittance and trade finance with Emirates NBD in UAE. Later he quits the bank and joins the technology company that we now know as HashCash.
HashCash's HC NET has gained quite a popularity. Based on the joint announcements this year, Alfa-Bank, Russia's largest Commercial Bank, earlier declared that it partnered with HashCash to set up a Domestic Payment Ecosystem on HC NET. German Banks such as Commerzbank also joined the network for blockchain based cross-border payments. Singapore's UOB, India's Yes Bank and currency exchanges in UAE among others declared collaborating with HashCash.
HashCash also runs the multi-currency, multi-signature; SegWit enabled cryptocurrency exchange, PayBito which is made available to users globally on Android stores.
In Feb this year, Forbes published a list of the richest Crypto billionaires.
Chris Larson, Co-founder of Ripple, another remittance network operator, has an estimated crypto net worth of USD 7.5-8 billion. Joseph Lubin, Ethereum co-founder is worth USD 1-1.5 billion. Forbes agrees that this list is ever changing and is in no way complete.
The estimates show that with a net worth of USD 1-2 billion, Raj Chowdhury would possibly hold a second or third spot on this list.
Changpeng Zhao, CEO of crypto exchange, Binance is estimated to be at USD 1.1-2 billion. Followed by Winklevoss brothers, Matthew Mellon, Brain Armstrong and others.
Crypto-billionaires are gradually moving out of the forsaken shadows to the daylights of the mainstream media.