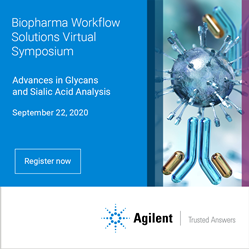 SANTA CLARA, Calif. (PRWEB) September 21, 2020
Agilent Technologies, a global leader in life science, diagnostics, and analytical laboratory technologies, to host Agilent Biopharma Workflow Solutions Virtual Symposium: Advances in Glycan and Sialic Acid Analysis, on September 22, 2020. During the virtual conference, Agilent will offer a complete portfolio of samples to answers solutions to allow you to characterize released N-glycans, glycopeptides and intact glycoproteins efficiently and with confidence.
The Agilent Biopharma Workflow Solutions Virtual Symposium: Advances in Glycan and Sialic Acid Analysis will feature seven speakers such as Christopher Colangelo, PhD, MBA, Biopharma Business Development Leader, Rebecca Glaskin, Application Scientist, Agilent Technologies, David Wong, PhD, Sr. Applications Scientist - LC/MS Solution, MSD Division, Agilent Technologies, and more to learn how to optimize and streamline glycan analysis. To read the complete speaker list, along with their webinar titles, view the agenda here.
In addition to the live and on-demand educational webinars, this virtual conference will also include a live panel discussion to stay connected to new developments in glycan analysis, further your research, and have your research bottleneck questions answered in an interactive format. Attendees will be able to access and download a variety of application notes, posters, white papers and brochures to enhance glycan analysis knowledge, as well as speak with Agilent technical product experts, and attend a virtual product booth to learn more about featured products, view videos, request literature, access resources and chat with sales and technical representatives.
Produced on LabRoots' robust platform, connecting across all desktop and mobile devices, the interactive experience will remain open 12 months from the date of the live event and the webinars will be available for unlimited on-demand viewing.
We look forward to having you join us for this informative event. For more information or to register, click here.
About Agilent Technologies
Agilent is a global leader in life science, diagnostics, and applied markets. The company provides laboratories worldwide with instruments, services, consumables, applications and expertise, enabling customers to gain the insights they seek. Agilent's expertise and trusted collaboration give them the highest confidence in our solutions. Agilent focuses its expertise on six key markets, where we help our customers achieve their goals – Food, Environmental and Forensics, Pharmaceutical, Diagnostics, Chemical and Energy and lastly Research.
With a team of approximately 16,300 employees globally, our worldwide capabilities enable us to deliver high-quality solutions to our valued customers in 110 countries.
About LabRoots
LabRoots is the leading scientific social networking website, as well as a primary source for scientific trending news, premier educational virtual events/webinars and more. Contributing to the advancement of science through content-sharing capabilities, LabRoots is a powerful advocate in amplifying global networks and communities. Founded in 2008, LabRoots emphasizes digital innovation in scientific collaboration and learning. Offering articles and webcasts that go beyond the mundane and explore the latest discoveries in the world of science, LabRoots users can stay atop their field by gaining Continuing Education Credits from a wide range of topics through their participation in the webinars and virtual events.