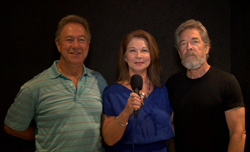 "I interview the famous, the almost-famous and the wannabe famous," said The DM Zone host Dianemarie (DM) Collins. "I enjoy people and I listen carefully to what my guests say. We end up sharing a fun, interesting conversation about who they are and what they love!"
ATLANTA (PRWEB) January 23, 2020
The DM Zone, a syndicated online television channel, is excited to announce that we're joining forces with PodBean.com on a new podcast called The DM Zone Podcast. Featuring interviews with Hollywood stars like #ClintEastwood, #RichardDreyfus and transgender actor Daniela Vega who starred in the Academy Award Winning Film 'One Fantastic Woman,' The DM Zone Podcast brings you great stories from the film industry.
"I interview the famous, the almost-famous and the wannabe famous," said The DM Zone host Dianemarie (DM) Collins. "I enjoy people and I listen carefully to what my guests say. We end up sharing a fun, interesting conversation about who they are and what they love!"
As the podcasting is expected to surge to a $1 Billion a year industry in 2020, viable production companies like The DM Zone are needed to provide content. Our team is utilizing a vast network of television writers and producers to produce cutting edge VIDEO podcast experiences.
Musicians star in The DM Zone Podcasts so you can learn interesting back stories about artists like #CreedenceClearwaterRevisited – how Cosmo Clifford got his nickname, #JoeDiffie – how Jason Aldean's song 1994 has given me a resurgence, #ChrisStapleton – all about the Country Music Awards, #LoCash – a 12 year overnight success, #CarrieUnderwood – hosting the CMAs, and the #NittyGrittyDirtBand – the story of Mr. Bo Jangles and Fishing In The Dark. Jazz lovers will love the interesting stories from jazz legends like #EllisMarsalis, saxman #MichaelLington, and chart-topping trumpeter #CindyBradley. Hip Hop legends #NappyRoots talk about converging hip hop music with craft beer brewing while Dianemarie Collins found out how Country Music Legend #MarkChesnutt met his wife.
Other podcast topics include DM going to her 50th High School Reunion (Camelback High School in Phoenix, AZ), the new Panama Good Times App for Panama the country, travel Vlogs showing travel tips for countries around the world, and medical breakthrough technology with GIOSTAR Founder Dr. Anand Srivastava talking about the cure to the global blood shortage … all in all, it's an interesting and fun VIDEO Podcast to learn about cool things that are happening with creative professionals around the world.
Douglas Collins, executive producer of The DM Zone, said "we couldn't be more excited to join forces with PodBean and to bring our informative video podcasts to listeners everywhere. It's a perfect example of how online media can extend the reach and impact with a terrific platform like PodBean. And with six podcast shows already on the schedule, we're just getting started."
ABOUT PodBean
Podbean is a podcast publishing and monetization service, providing free and premium hosting packages for individuals and businesses. Podbean offers a user-friendly interface that integrates publishing, management, syndication and analysis tools into an easy-to-use podcasting package. Podbean has been providing innovative podcasting services as an industry leader for more than ten years.
About The DM Zone
The DM Zone is a syndicated, online television channel that is hosted across multiple video platforms across the Internet. With combined views exceeding 1.2M unique views over the last 12 months, the DM Zone is a compelling platform for politicians, authors, actors, athletes, musicians and other creative professionals.