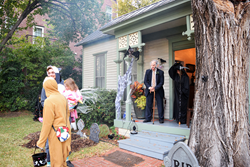 DENTON, Texas (PRWEB) October 25, 2018
Halloween night will feature the annual visit of "Old Man Evers" to the old Evers Farmhouse on East Oak Street in Denton. The strange happenings will begin at 5:00pm as part of the "Trick or Treat on the Square."
"Old Man Evers" will be passing out candy to Trick or Treaters engaging in Halloween fun. The historic Evers farmhouse at 217 East Oak Street is now the Law Office of David S. Bouschor II and was built in 1882.
This year's celebration will feature green lights hauntingly shining through the fog emanating from the house. For those brave enough to approach the old man (and Denton's children must be particularly brave because of the long lines) they will receive delectable Halloween delights.
The Law Office of David S. Bouschor II sponsors the return of "Old Man Evers" annually. The family law, probate and guardianship law firm has been in Denton since 1992. For more information call 940-323-1300 or go to http://www.dsblegal.com.