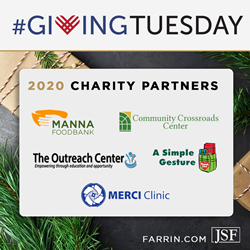 "Giving back, inside and outside of the office, is part of our DNA," said James S. Farrin, President and CEO of The Law Offices of James Scott Farrin.
DURHAM, N.C. (PRWEB) December 01, 2020
The Law Offices of James Scott Farrin has identified several local nonprofit organizations on which to focus its charitable giving efforts on Giving Tuesday. A few include:

A Simple Gesture concentrates on helping feed hungry people in Guilford County through food drives, food banks, and food pantries.
Community Crossroads Center is an emergency homeless shelter in Pitt County where people can regroup, receive guidance, and work on obtaining a more secure future.
Manna Food Bank links the food industry with over 200 partner agencies in 16 counties in Western North Carolina in an effort to eliminate hunger.
MERCI Clinic is a nonprofit community clinic, staffed primarily by volunteers, which provides free health care services for adults of Craven, Pamlico and Jones Counties who are of limited income and without medical or dental insurance.
The Outreach Center focuses on empowering children and their families to break the cycle of generational poverty in Burke County and its surrounding communities in Western North Carolina.
Throughout the year, employees at the firm give back to their communities with their time and talents on an individual level. And now on Giving Tuesday, the firm will donate funds to the deserving charities selected by its employees.
"People need help in our communities, now more than ever," said James S. Farrin, President and CEO of the Law Offices of James Scott Farrin. "Team members at the Law Offices of James Scott Farrin have always been actively involved in taking care of our neighbors – giving back, inside and outside of the office, is part of our DNA. I am proud of these efforts, and I encourage everyone to give time, energy, and/or money to help those in need."
Earlier in the year, the firm donated more than 80 computers to three local nonprofit organizations, Kramden Institute, the Franklin County Domestic Violence Center, and Mi Casa Community Services. The law firm's transition to a more remote workforce structure with COVID-19 made the computers available, and they were given to the organizations to facilitate the positive impact they are having in their communities.
ABOUT THE LAW OFFICES OF JAMES SCOTT FARRIN
The Law Offices of James Scott Farrin is one of the largest personal injury firms in North Carolina and has helped more than 46,000 injured people since 1997. Many of the firm's more than 50 accomplished attorneys have won awards and are recognized professionals in their fields. The firm focuses on personal injury, car accidents, workers' compensation, nursing home abuse, whistleblowing, defective products, eminent domain, mass torts, class actions, and Social Security Disability. Their headquarters is in Durham, North Carolina. Visit farrin.com for more information.
Contact Information:
David Chamberlin
280 S. Mangum Street
Suite 400
Durham, NC 27701
866-900-7078
https://www.farrin.com/