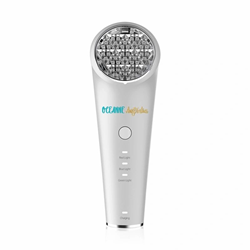 SYDNEY (PRWEB) July 27, 2020
Leading independent beauty brand, Oceanne Australia, today launches 'The Time Is Now', a game-changing skincare device. At 15 inches, the handheld LED light therapy is the most compact in the market, and completely solar-powered.
Working on a cellular level, the face device uses gentle but effective infrared and blue light technology. The results have been shown to; improve skin tone, target the signs of aging, and enhance complexion. Its deep penetration leaves skin looking healthy with a natural luminous glow.
It provides the same medical-grade results you'd expect from a medical grade spa, and all from the comfort of your home.
'The Time is Now' is now exclusively available from http://www.oceanneaustralia.com.au for $599, and includes a lifetime warranty.
Danielle Marina founder and CEO of Oceanne Australia, said: "I've been developing this skin therapy device, to bring the spa experience straight into the home. Not only is it the world's most compact LED light therapy, but it's highly effective too. It can help improve skin tone and roll-back the signs of ageing, for skin that looks and feels rejuvenated.
"Used in partnership with our natural beauty skincare range, it can have long-lasting results, since the light therapy promotes face cream absorption.
"At a time when more people are turning to home-based solutions, it's the perfect opportunity to share this with fellow beauty hunters. Plus, blue light therapy has been found to kill bacteria on the skin's surface. With the luxury of us all being at home more, the time is certainly 'now' to put wellbeing first!"
'The Time is Now' LED device penetrates the skin using safe light therapy. It can be used in short bursts of three to five minutes per 'zone' and promises to rejuvenate complexion with immediate results.
Here's some of the main benefits of using 'The Time is Now' LED light therapy device:

The infrared light works on a cellular level, penetrating skin without any pain or discomfort
Boosts the production of collagen
Promotes the regeneration of cells for youthful looking skin
Helps to reduce the appearance of wrinkles and fine lines
Ensures face creams absorb better into the skin
Lifts, tightens and tones skin
Improves overall complexion for a natural glow
Uses the same trusted technology as leading salon
Compact enough to fit in a bag or pocket for life on-the-go
Oceanne Australia will also be launching stores throughout Australia with the first in Sydney, Australia; in September and is inviting beauty fans to come down and sample the range.
The Australian start-up is best known for its innovative skincare collection. The vegan-friendly non-toxic range uses locally-sourced active ingredients, suitable for all skin types. This includes its best-selling Peptide Moisturiser and Botanical Herb Exfoliator.
To learn more about Oceanne Australia, or to shop the range, please visit: http://www.oceanneaustralia.com.au and follow @oceanne_australia on Instagram and Facebook.
Stockist and media inquiries, email info@oceanneaustralia.com.au.
Notes to Editors:

Oceanne Australia is an independent beauty brand from Sydney. Launched in 2020 is leads the way in modern skincare, using natural ingredients that are vegan-friendly. The range includes natural skincare products, as well as a cutting-edge LED face wand.
For further information, please contact: info@oceanneaustralia.com.au.