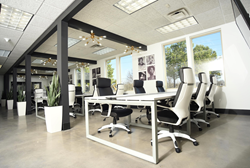 "The energy is professional and positive and the networking opportunities are great," says member Courtney Woods. "The idea of expanding my business by having access to resources, co-working and meeting spaces in the Atlanta office just felt like common sense to me."
EAST POINT, Ga. (PRWEB) September 02, 2020
The Legacy Center has once again opened its doors, signifying its relaunch in the heart of East Point, Georgia. The organization, whose massive 31,000 square foot production and co-working facility spans four acres, held its star-studded grand opening in January just before the global pandemic forced some of its operations to go virtual. Now, the center is excited to welcome its clientele of burgeoning entrepreneurs back to its physical location, while hoping to further connect with the community-at-large.
Designed to support small businesses and entrepreneurs, the Legacy Center, also known as "The Black House," serves a dual purpose; aiming to satiate its clientele's physical and business development needs. The sleek co-working facility includes: desk space, conference rooms, a lounge area and access to a newly-built cafe.
"The Legacy Center was born out of the desire to designate a space for business owners, creatives and artists from marginalized communities who are striving towards leaving a legacy for their families," says Community Manager, Laini Davis. "Our goal is to create a community rooted in collaboration and resource sharing, while offering a modern and refreshing environment for growing businesses, small teams, meetings and private events."
Also in the works is a state of the art production studio which members and the community will be able to utilize at an additional cost. As part of the experience, Legacy Center offers several affordable master classes and programs, targeting: business development, wealth and finance; real estate investment; credit strategy; branding and marketing; and more.
"The energy is professional and positive and the networking opportunities are great," says member Courtney Woods. "The idea of expanding my business by having access to resources, co-working and meeting spaces in the Atlanta office just felt like common sense to me."
The organization is currently offering a Digital Media and Marketing program to help small businesses scale their operation. Led by media professionals, offered courses are set to rotate on a monthly basis and will cover web design, email marketing, social media and more.
"It's liberating to be able to nurture and provide the tools, resources and skills for our small business communities to make their own impact," says Mariah Robinson, Community Engagement Lead at the Legacy Center. "Our Digital Market and Media Program is such a pivotal resource for the small business community especially those in their start up and planning phase."
Individuals seeking to join the community are also invited to learn more about forthcoming in-person and virtual events, including the staple First Fridays happy hour, on the center's Events Calendar at LegacyCenterEvents.com.
The Legacy Center is the first acquisition of the African American founded and managed real estate crowd fund, the Tulsa Real Estate Fund. It is located at 3015 R.N. Martin St. East Point, GA 30344.