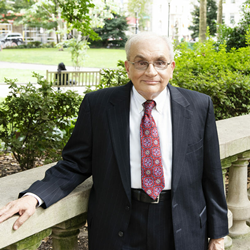 PHILADELPHIA (PRWEB) May 18, 2021
Willig, Williams & Davidson is proud to announce that partner Ralph J. Teti has been named an Unsung Hero in The Legal Intelligencer's 2021 Professional Excellence Awards. Teti was recognized for the hundreds of hours he devoted to coordinating the firm's election protection efforts during the 2020 presidential election.
"This election was a critical point both for our nation's democracy and the policies and issues that affect the working men and women we represent," said firm managing partner Deborah R. Willig. "Our attorneys were committed to doing everything we could to protect the right to vote, and Ralph invested substantial amounts of time and energy coordinating that work. We are thrilled that he is being recognized for that dedication with this Unsung Hero award."
In the months leading up to Election Day and for weeks afterward, dozens of the firm's attorneys devoted their time and legal acumen to protecting the right to vote and ensuring that every vote was counted. By the time the election was over, 30 of the firm's 42 lawyers had devoted 775 billable hours to voter protection efforts. Nearly all that work was coordinated through Teti, who practices election and campaign finance law as well as labor and employment law.
"My colleagues and I knew this would be one of the most important elections of our lifetime and would have long-lasting implications for our clients," said Teti. "When they were asked if they wanted to help out, our lawyers stepped up, writing amicus briefs, volunteering at polling places, advising poll workers on election law, and standing watch at the Convention Center for 10 days while the votes were counted. We invested a lot of hours for a firm our size, but it was important not just for us and our clients but for the future of the country."
Considered by his peers as a leading authority on federal and state election law and regulation, Teti also serves as counsel for political candidates, political action committees and related organizations in matters such as campaign finance and election law enforcement. In 2013, Teti and firm partner John Bielski represented the AFL-CIO and local unions in the successful fight to overturn a proposed voter ID law in Pennsylvania. In 2018, Teti and Bielski represented the same clients in the constitutional challenge to the Pennsylvania Legislature's conduct in gerrymandering congressional districts. The litigation overturned that plan, forcing the districts to comply with constitutional requirements.
Teti also represents public and private sector unions and their members, working to shape public policy to advance the fight for justice and equity. In 2015, he developed the legal strategy and worked with colleagues on briefs and arguments to defeat the Philadelphia School Reform Commission (SRC) in its attempt to unilaterally void its collective bargaining agreement with the Philadelphia Federation of Teachers. A lengthy legal battle ensued, with Teti and his colleagues prevailing in every proceeding against an army of private firms engaged by the SRC. The Pennsylvania Supreme Court eventually ruled in favor of the firm's client, handing Teti, the firm, and the teachers a defining victory.
Held annually, The Legal Intelligencer's Professional Excellence Awards honor lawyers who have left an indelible mark on the legal community in Pennsylvania and beyond. The 2021 honorees will be recognized in special editorial sections and at an awards dinner on June 24, 2021 at the Loews Philadelphia Hotel.
About Willig, Williams & Davidson – Willig, Williams & Davidson (http://www.wwdlaw.com) is one of the largest and most respected union-side labor law firms in the United States. The firm has offices in Philadelphia, Harrisburg, and Jenkintown Pa., as well as Haddonfield, N.J., and Chicago, Ill. Founded in 1979, Willig, Williams & Davidson focuses on representing labor unions, employee benefit funds and individual working people and their families on a variety of legal fronts, including national, regional and local contract negotiations; election and campaign finance; dispute resolution through mediation, arbitration and litigation; family law matters; benefits law design and compliance issues; discrimination, overtime and unpaid wages, and other employment matters; prepaid legal services for union members; social security disability; and workers' compensation matters in Philadelphia and beyond. Workers inspire us.