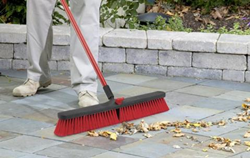 ARCOLA, Ill. (PRWEB) September 28, 2021
With fall arriving, it's a good time for homeowners to use the remaining pleasant weather days to clean outdoor areas, furniture and tools to prepare for the colder months ahead as well as to extend the life of the products. The Libman Company, a 125-year-old U.S. manufacturer of household and commercial cleaning products, offers six cleaning tips to help homeowners seamlessly transition into winter.
1) Lawn Power Tools and Machines – Keeping the lawn mower and other motorized tools clean helps extend their life as well as ensures their optimal performance. Use a heavy-duty sponge or microfiber cloth to remove dried mud, grass and dirt from the machine, blades and underside. Most experts recommend emptying the lawnmower gas tank so that the leftover gasoline doesn't become stale and gunky, which can damage the carburetor.
2) Deck, Patio and Porch – First, sweep the area to remove loose debris, grass clippings, dirt and leaves. Next, remove leftover dirt and stains from your patio or deck with a mop and bucket of hot water mixed with dishwashing soap or flaked laundry detergent. The Libman Jumbo Cotton Wet Mop is a traditional cut-end, yarn style deck mop and is designed for this task.
3) Patio Furniture – An easy way to clean dirty patio furniture and kid's playsets is to use a dish soap dispenser with a scrub brush filled with a general all-purpose cleaner or dish soap. Try the Libman All-Purpose Scrubbing Dish Wand and scrub away. Air dry and store as usual.
4) Gardening Tools – Scrub off caked-on dirt from a season of weeding and gardening to prevent rust accumulation and to keep tools dry and ready for spring. Cotton gloves can be thrown in the washing machine and air dried. Scrape dried mud off leather gloves and check their care instructions before hand washing.
5) Air Conditioner – First remove the window unit air conditioner and then wipe it down with a microfiber cloth. This helps protect it from damage and ensures that warm indoor air doesn't leak out through the cracks between the unit and window. Use a vent brush or pipe cleaner to clean out dust and debris and then store in a cool dry area. For central air, clean and then secure a plastic cover over the unit to prevent rust and damage.
6) Garage Floor – Sweep out dirt, grass clippings and debris that's accumulated in your garage over the summertime. This is especially important if you've got an attached garage as the dirt and debris often make their way into the house. The Libman Extra Large Precision Angle Broom with Dust Pan is ideal for the task.
Taking the time to clean summer tools and outdoor areas now helps make next year's spring cleaning and preparation less stressful and time-consuming.
About The Libman Company
The Libman Company is a family-owned company that has been making quality cleaning tools since 1896. The company manufactures products from brooms and mops to more specialized tools for kitchen and bathroom cleaning and industrial uses. Libman proudly manufactures most of their products in the United States, including the company's well-known Wonder® Mop. For more information about the Libman Company, please visit http://www.libman.com.