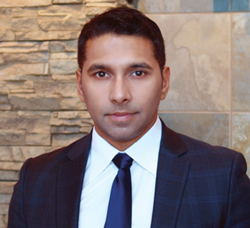 There is still a mountain to climb in building awareness of the procedure and breaking down stigmas for those who complete it, but I am committed to fostering patient education and fueling the conversation toward acceptance.
LAS VEGAS (PRWEB) February 11, 2021
Dr. Kevin Debiparshad, orthopedic surgeon and founder of The LimbplastX Institute, is doing more than breaking bones to help patients achieve up to six inches in permanent height—he's shattering the record for cosmetic limb lengthening cases year over year and building a snowball of interest moving into 2021.
Despite restrictions brought on by the pandemic and a period of no elective surgeries, The LimbplastX Institute completed over 46 cases in 2020, with 7 completed cases in January 2021, a tripling in patient volume from past years. With over 600 patient inquiries online and through calls from January 2020 to December 2020, the pipeline for future surgeries stands tall for continued practice growth.
Dr. Kevin Debiparshad, a Harvard-trained and dual-board certified surgeon, is an orthopedic surgery specialist who has earned a reputation as one of the world's leading limb lengthening surgeons. His practice, The LimbplastX Institute, uses the most advanced surgical techniques and innovative technology, including NuVasive's Precice Stryde™ system, to help patients realize their ideal stature.
Dr. Debiparshad has been trained at some of the finest medical schools and institutions in North America. He received his medical degree from the prestigious McGill University, where he found his passion for the field of surgery, leading to a master's degree from the Department of Orthopedic Surgery at McGill University. He then completed his residency in Orthopedic Surgery at McMaster University, the home of "evidence-based medicine." After residency, Dr. Debiparshad completed a fellowship in complex limb lengthening and deformity reconstruction at the Paley Advanced Limb Lengthening Institute. Here he developed a special interest in adult limb lengthening, non-unions and post-traumatic deformities, a skill set that very few surgeons possess. Additionally, he completed a second fellowship at the world-renowned Harvard University in Cambridge, Massachusetts where he completed a comprehensive program in surgical training.
In 2020, Dr. Debiparshad made headlines with his unique perspective on surgery and passion for changing lives. With features in over 150 publications worldwide, including The Doctors, CTV News and Business Insider to name a few, Dr. Debiparshad is bringing greater awareness to the unique leg-lengthening procedure and empowering cosmetic patients to speak out. Ultimately, he hopes to help normalize and destigmatize the procedure to the likes of rhinoplasty or breast augmentation—each thought to have been crazy when they first gained popularity.
"Since opening The LimbplastX Institute in 2018, it's been exciting to see my practice grow into one of the top volume centers in the world for the innovative cosmetic limb lengthening procedure," said Dr. Kevin Debiparshad. "There is still a mountain to climb in building awareness of the procedure and breaking down stigmas for those who complete it, but I am committed to fostering patient education and fueling the conversation toward acceptance."
In 2021, Dr. Debisparshad will begin supporting NuVasive Specialized Orthopedics as an educational consultant for cosmetic limb-lengthening to influence professional development for cosmetic limb-lengthening surgeons around the world.
Cosmetic limb lengthening continues to gain traction globally, specifically within the United States, due to the benefits offered by minimally-invasive surgery options. Benefits include: enhancing the appearance of a person, advancements in healthcare and technology, and ease of recovery compared to past archaic methods like the Ilizarov apparatus. Dozens of studies and surveys have concluded that a taller stature contributes to a boost in confidence, success in dating, and success in intimacy and career — all of which change lives.
For more information, visit http://www.limbplastx.com.
About The LimbplastX Institute:
Led by Dr. Kevin Debiparshad, The LimbplastX Institute is widely recognized for using the most innovative and advanced techniques for cosmetic limb-lengthening. Patients from around the world come to The LimbplastX Institute in Las Vegas for the surgery that will increase their height by up to six inches in a matter of months. A Harvard-trained surgeon, Dr. Debiparshad treats a wide range of orthopedic conditions with the use of the latest research and technology. Dr. Debiparshad is dual-board certified with the American Board of Orthopedic Surgery and Royal College of Physicians & Surgeons of Canada. He is deeply devoted to delivering world-class care to all of his patients and revolutionizing a new path for recapturing self-confidence. For more information, please visit http://www.limbplastx.com.