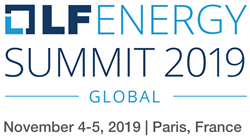 This unique event will bring together the power and technology industries' leaders and active innovators to discuss the energy transition and how to move the planet toward 100% decarbonization by 2050 - a goal that is critical to keeping global warming in check
SAN FRANCISCO (PRWEB) September 24, 2019
LF Energy, a nonprofit, vendor-neutral initiative from The Linux Foundation, whose mission is to accelerate the energy and electricity sectors' worldwide decarbonization goals through open-source technology, announced today its first global summit, NOW TO NEXT - The Power of Together. LF Energy and RTE, France's electricity transmission system operator and member of LF Energy, will host the event in La Défense, Paris on Nov. 4-5, 2019.
This unique event will bring together the power and technology industries' leaders and active innovators to discuss the energy transition and how to move the planet toward 100% decarbonization by 2050 - a goal that is critical to keeping global warming in check.
"Climate models suggest that 94% of our decarbonization can occur through transforming our energy and transportation systems as we move toward fossil-free electrification," says LF Energy Executive Director Dr. Shuli Goodman, Ph.D. "Attendees at NOW TO NEXT will learn how to do this through a leveraged development model and a collaborative ecosystem-based on open-source technology. We want them to walk away with usable tools and access to a neutral global support community."
NOW TO NEXT will feature contributions and keynote presentations from leaders in both the energy and adjacent industries who have already made open source and its support ecosystem critical to their strategic approach in the marketplace. They will share this path for getting from what we have NOW to achieving what's NEXT.
Speakers include:

Mechthild Wörsdörfer, Director of Sustainability, Technology and Outlooks at the International Energy Agency
Dan Kohn, Executive Director at the Cloud Native Computing Foundation
Nithya Ruff, Board Chair at the Linux Foundation & Head of the Open Source Program Office at Comcast
Lucian Balea, Open-Source Program Director at RTE
...and more!
Tickets are €300 for the full two-day event on Nov. 4 and 5. Projects will also meet for a working day on Nov. 6, which is free and open to all attendees. This unique event is certain to be standing room only, so secure your spot today at https://events.linuxfoundation.org/events/lfenergysummit2019.
This event is made possible through sponsorships from RTE, the Cloud Native Computing Foundation (CNCF), Vanderbilt University, the National Renewable Energy Lab (NREL) and NCSU FREEDM Systems Center. Further sponsorship opportunities are still available. Accredited members of the media interested in attending may apply for a complimentary media pass by emailing lfenergypr@walkersands.com.
About LF Energy
A first-of-its-kind initiative, LF Energy provides a 21st-century plan of action to solving climate change through open frameworks, reference architectures and a support ecosystem of complementary projects. In addition to RTE, members include Energinet, TenneT, Alliander, Elering, IBM, Recurve, Stanford University, OSISoft, Unicorn, Root9B and more. Find further information here: https://www.lfenergy.org.
###