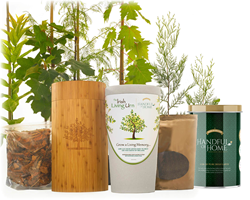 Incorporating the earth of Ireland in a celebration of life is an ancient tradition and allows families to lay their loved one to rest and honor their cultural roots. With The Irish Living Urn, we're now taking it a step further by incorporating the earth from Ireland in a tree planting and memorial
GREENWOOD VILLAGE, Colo. (PRWEB) July 17, 2018
The Living Urn, America's leading bio urn and planting system designed to grow a memory tree, is excited to announce the launch of The Irish Living Urn. The Irish Living Urn consists of The Living Urn's proprietary bio urn and planting system and incorporates Handful of Home's earth from Ireland, giving Irish American families the ability to have a tree memorial of a loved one that incorporates the earth of their homeland.
Mark Brewer, President of The Living Urn commented, "We're excited to partner with Handful of Home and jointly launch The Irish Living Urn. There are over 34 million Irish Americans in the U.S. and more and more are choosing cremation over burial. They're looking for unique, uplifting memorials and The Irish Living Urn provides them a beautiful option that gives them the ability to grow an enduring tree memorial with the cremated remains of their loved one and the soil from the land of their ancestors."
Aifric O Byrne, President of Handful of Home commented, "We've been focused on the burial market and are excited to enter into the cremation market with The Living Urn. We believe The Irish Living Urn is a beautiful option for Irish Americans looking for an uplifting memorial. Incorporating the earth of Ireland in a celebration of life is an ancient tradition and allows families to lay their loved one to rest and honor their cultural roots. With The Irish Living Urn, we're now taking it a step further by incorporating the earth from Ireland in a tree planting and memorial."
Each Irish Living Urn comes with The Living Urn's proprietary bio urn made from recycled plant materials, Handful of Home Ceremonial Canister containing 100% pure Irish earth, RootProtect™, a natural soil additive that serves to counter certain properties of cremated remains that can make the growing environment harsh, aged wood chips, and comes packaged in an attractive eco-friendly bamboo cylinder. Families can also choose from over 20 tree and shrub options to be planted with the Irish Living Urn.
About The Living Urn®
The Living Urn®, America's leading bio urn and planting system, is designed to grow a memory tree, plant, or flowers with cremated remains. The Living Urn® provides families with everything they need to grow a living memorial and now offers versions of their urn and planting system for both, outdoor and indoor use. These patent pending systems are designed to be used with actual tree seedlings, or baby trees. Customers select their seedling from a tailored menu of tree options best suited for each unique geographic area. The Living Urn® is available in two versions – one for people and the other for pets. For more information, please visit TheLivingUrn.com.
About Handful of Home
Handful of Home lets Irish Americans honor their cultural roots at the most important moments of their lives. The beautifully designed Ceremonial Canister filled with 100% pure Irish earth lets families place a handful of the Old Country on top of the urns or caskets of loved ones, laying them to rest on the land of their forefathers. Each Ceremonial Canister contains 2lbs of pure Irish earth, harvested from some of the finest fields across Ireland. The earth is carefully treated to ensure that it meets 100% of the USDA import regulations. Our Irish earth is packaged and shipped with care, to ensure that its texture, quality and timeless essence are preserved. To find out more, please visit us at http://www.handfulofhome.com.