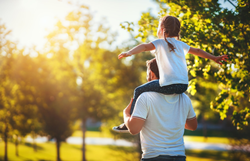 GREENWOOD VILLAGE, Colo. (PRWEB) June 04, 2020
The Living Urn®, America's leading bio urn° and planting system, is excited to announce an enhanced pre-planning offering. This includes a version of The Living Urn® that provides families with the patented planting system and a voucher that can be redeemed for a tree of choice when the time comes to plant.
In addition, the company and its partners are now offering pre-planning in conjunction with Memory Forest – an association of partnerships with leading cemeteries, memorial parks, and green burial grounds. Memory Forest provides families with a final resting place where a tree memorial can be planted in combination with The Living Urn®. Simply visit the Memory Forest website to find a location near you and fill out the online form or give them a call. A representative at the location can guide you through your tree options, available planting sites, and other services available - giving you the ability to take care of all of your memorial arrangements in advance.
Mark Brewer, company President commented, "Pre-planning with The Living Urn® has become quite popular and we're excited to expand our offering to include the Memory Forest locations. This gives families without a place in mind to plant many excellent and convenient options. In addition, it allows people to make plans ahead of time, providing peace-of-mind knowing that remaining family will not have this responsibility after they pass. People of a wide range of ages have expressed interest in planning ahead with The Living Urn®, including older generations all the way down to people in their 30's. We're excited to make the Memory Forest option even easier to meet the needs of more families."
About The Living Urn®
Based in Colorado, The Living Urn® is committed to developing and providing unique cremation urns serving families looking for eco-friendly afterlife options that can be more meaningful and personal. Its growing market leading product offering includes the patented Living Urn®, the leading bio urn and planting system designed to grow a tree with cremated remains, The Living Urn® Indoors, the Eco Scattering Urn, a unique bamboo urn for scattering ashes, the Eco Water Urn, a proprietary urn that floats and gracefully frees ashes in water, the Eco Burial Urn, a special bamboo burial or traditional decorative urn, and Flow the Ice Urn, a patented urn made from a block of ice. The company is developing additional eco-friendly cremation urns that it will be introducing in the next few months.