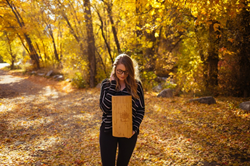 GREENWOOD VILLAGE, Colo. (PRWEB) April 09, 2020
The Living Urn®, America's leading tree memorial planting system, announces recommended ways families can use its market leading BioUrn® and honor a loved one while practicing social distancing.
For families looking to do a tree memorial planting this Spring, below are some adjustments to increase safety:

Only Have Immediate Family Present: Involve people who are living in the same house who are isolating together. The Living Urn® is designed to be used with as much or as little of one set of cremated remains as desired, so families can choose to include all of a loved one's ashes or just a portion of the ashes now then include the remainder in another memorial involving additional family and friends at a later date.
Livestream or Record the Memorial: The technology available on our mobile phones and tablets makes it easy to video the tree planting. This can be broadcasted live with Zoom, Skype, FaceTime, Facebook Live, or another software, and be viewed by family and friends from their home. Many of these applications can also enable those participating remotely to speak during the event, making for a special memorial.
Multiple Tree Memorials: Another great idea shared by many families is to divide up a loved one's ashes and provide a portion to each family member or close friend. With the remains, each person can plant their own tree memorial in honor of the loved one who passed. Family and friends can video and take pictures of the planting and share with each other in a Facebook group or other social media platform. This can create a special and memorable event for everybody involved, while also practicing safe social distancing. If this is of interest to you and your family, The Living Urn® offers a family program, where you can order multiple units at a significant discount.
Hold a Service Later: Another option is to do the planting right away on your own or with immediate family, then gather extended family and friends for a service at a later date once it is determined to be safe to do so. You can hold the memorial service outside by the tree, reflect on the loved one who passed, and share photos or video of the planting. Many families find this to be a great solution as the tree memorial is already planted and they can focus on the celebration of life and being with family and friends.
While many families prefer to plant The Living Urn® tree memorial right away, others choose to delay the planting and wait until they can have more family and friends present. If your choice is to wait, you can still order The Living Urn® now and receive the special Bio Urn® and planting system right away, but delay the tree shipment. The Living Urn® can securely hold your loved one's ashes until the planting and has no expiration - it can be stored for months or even years and the tree urn only begins to break down once it's planted and exposed to soil and moisture.
---
About Biolife, LLC
Biolife, LLC, based in Colorado, is committed to developing unique market leading cremation urns catering to families looking for eco-friendly and meaningful afterlife options. Its growing product offering includes The Living Urn®, the leading BioUrn® and planting system in the U.S. designed to grow a tree with cremated remains, The Living Urn Indoors, Eco Scattering, a unique bamboo scattering urn, Eco Water, a patent pending urn for water burials, Eco Burial, and Eco Home. The company is developing additional eco-friendly urn products and services that it expects to launch in the next few months.