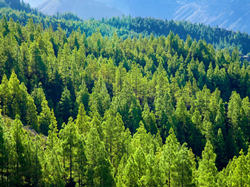 We're excited to now include our new Living Urn Indoors product in our reforestation program where every sale of this urn will also result in a tree being planted to give back.
GREENWOOD VILLAGE, Colo. (PRWEB) May 02, 2019
The Living Urn®, America's leading bio urn that grows a tree memorial with cremated remains, is excited to announce the continued expansion of its national tree donation program. This program was launched in 2017, where for every Living Urn® planted in the U.S., the company donates to plant a second tree in one of America's forests in need of reforestation. Now, the company is expanding this program to include The Living Urn® Indoors product line.
Mark Brewer, company President, commented, "Since launching the tree donation program, we've donated to plant, on behalf of our customers, thousands and thousands of trees to help with critical reforestation efforts. When we started our focus was on the Tahoe National Forest in California and the Chippewa National Forest in Minnesota. More recently, the focus has been on the Pike National Forest which has special meaning and significance to us as a Colorado company. The Pike National Forest has been affected by multiple wildfires including the Hayman Fire, the largest in Colorado history. In the widespread moderate and high-intensity burn areas, 100% of the trees were lost and, along with them, future seed sources for natural regeneration. On behalf of our customers, we're contributing to a project in the Pike National Forest that targets to plant 144,400 trees, re-establishing forest cover and protecting a critical watershed."
Brewer continues, "We're excited to now include our new Living Urn Indoors product in this program where every sale of this urn will also result in a tree being planted to give back. A single tree produces approximately 260 pounds of oxygen per year, and two mature trees can supply enough oxygen to support a family of four. Large areas of forests throughout the U.S. have been wiped out over the past few decades due to fires, insects and weather. This has left over a million acres in need of replanting, which continues to increase each year. It is critical that the replanting of these forests takes place in a timely manner as too much delay can result in invasive species of brush and trees to take hold that are more fire-prone, habitat for wildlife will not exist, and watershed areas won't be able to provide clean water."
"Families that choose The Living Urn® are interested in honoring their loved one and giving back and this program fits perfectly. We're honored to contribute on behalf of and in honor of each and every one of our customers and are excited about expanding this program to provide additional assistance to the ongoing reforestation efforts."
About The Living Urn®
The Living Urn®, based in Colorado, develops and markets unique, market leading cremation urns catering to families looking for eco-friendly and meaningful afterlife options. Its expanding product offering is designed to help families have special memorial experiences and includes The Living Urn®, the leading bio urn and planting system in the U.S. designed to grow a tree with cremated remains. Other products include the Eco Scattering Urn, a patented bamboo scattering urn, the Eco Burial Urn, a leading biodegradable bamboo burial urn, and the patent pending Eco Water, Urn, which gives families the ability to scatter ashes in water. The company is developing additional eco-friendly urn products that it will launch this year.