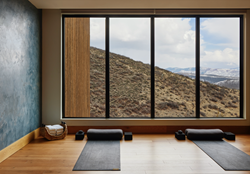 Designed for wellness seekers looking to dive deeper as well as urban visitors craving a meaningful escape, the Week of WELL is a guide to a more mindful and connected life.
PARK CITY, Utah (PRWEB) March 10, 2022
The Lodge at Blue Sky, Auberge Resorts Collection, an intimate luxury resort outside of Park City, and THE WELL, a complete ecosystem for wellness and holistic health care, are partnering for an exclusive retreat over May 30-June 2, 2022. The Week of WELL will integrate craniosacral therapy and ancient modalities while immersing guests in nature and drawing inspiration from the Lodge's expansive alpine setting. Over the course of four days, the immersive experience will uncover best practices in mindfulness, movement, nutrition and medicine with personalized sessions led by visiting masters, such as Craniosacral Therapist and Educator Michelle Stoppi and Plant People Founder Gabe Kennedy. Designed for wellness seekers looking to dive deeper as well as urban visitors craving a meaningful escape, the Week of WELL is a guide to a more mindful and connected life.
"Fostering connection between each guest and the vast landscape that surrounds us has always been the ethos of The Lodge at Blue Sky," said Joe Ogdie, general manager, The Lodge at Blue Sky, Auberge Resorts Collection. "The Week of WELL will be a remarkable journey toward physical and energetic alignment that combines our back-to-nature mindset with global practices led by THE WELL."
GREET SUMMER WITH FRESH PERSPECTIVE
In a perfect union that blends THE WELL's eastern-meets-western practice and the Lodge's wild-crafted approach to wellbeing, the retreat will greet summer with a fresh perspective after taking time to cleanse, ground, empower and find grace.
Kicking off with a sacred sage blessing inspired by the native land, the four-day itinerary is complete with movement classes, meditations, trail rides and private meals. Master Practitioner Michelle Stoppi, a licensed craniosacral massage therapist and the leading educator of craniosacral professional continuing education in the U.S., will lead sessions that explore the nervous system and its connection to the Earth's biomagnetic energetic field in order to overcome stress and achieve peace.
"I am very much looking forward to the magic we will be making with The Lodge at Blue Sky in May," shared Michelle Stoppi, master practitioner, THE WELL. "This retreat will be a great opportunity for anyone curious to get in tune with their well-being and further expand their consciousness. Whether you are looking to shake up your routine, make adjustments to your health, or learn more about integrative practices in general, the lessons learned during this week are sure to impact your life for years to come."
Highlights include a nourishing lunch crafted by Gabe Kennedy with Plant People's regenerative plant and mushroom supplements, a sunrise hike to mountain top yoga and breakfast with Blue Sky's wellness experts and a six-course dinner in which Executive Chef Galen Zamarra expresses food as medicine. Guests will also be able to arrange one-on-one craniosacral sessions with Michelle Stoppi for a more personalized and private healing experience.
When the week concludes, guests will have awakened their inner healer and unearthed a new way to care for their mental, physical and spiritual health.
LUXURY AS NATURE INTENDED
Set on a 3,500-acre private working ranch in the Wasatch Mountain Range, The Lodge at Blue Sky, Auberge Resorts Collection is just 35 minutes from Salt Lake City airport but a world away. A special kind of place where nature and luxury work in harmony, it boasts luxurious guest rooms and suites immersed in the landscape, an on-site sustainable farm, a restaurant helmed by James Beard award-winning Chef Galen, and transformative experiences like horseback riding and a network of onsite hiking trails that will be apart of the Week of WELL.
Utah's no. 1 resort (Travel + Leisure) is a leading wellness destination itself. It is home to Edge Spa—which features a spa menu of all natural body and skincare treatments as well as energy healing and Ayurvedic consultations—and also immersive wellness journeys that can be had across the property—including in-room sleep rituals, equine healing at the Arena, yoga and meditation in the forest and DIY bloom-to-bottle products made at the farm.
For more information or to reserve a spot at the retreat, please visit aubergeresorts.com/bluesky/experiences/week-of-well.
ABOUT The Lodge at Blue Sky, Auberge Resorts Collection
Only 35 minutes from Salt Lake City Airport, The Lodge at Blue Sky, Auberge Resorts Collection is a luxurious contemporary mountain retreat located in Park City, Utah's Wasatch Mountain Range. Set on 3,500 private acres surrounded by dramatic soaring peaks, high alpine fields, lush hillsides and a spring-fed creek, the 46-room resort invites guests to reconnect with the natural environment in understated elegance, with organic architecture that showcases the majesty of the land. Amenities include a collection of immersive outdoor adventures, including hiking, fly fishing, clay shooting, horseback riding and heli-skiing. The Lodge's restaurant, YUTA, helmed by James Beard Award-Winning Executive Chef Galen Zamarra, serves cuisine created with ingredients sourced from an onsite organic farm. Deeply restorative treatments at The Edge Spa complement Blue Sky's active outdoor adventures. Experiential opportunities exclusive to Blue Sky include learning about the artisanal whiskey-making at the on-site High West Whiskey distillery, hands-on horsemanship at the 30,000-square-foot indoor equestrian center and up-close animal encounters at Saving Gracie horse rescue sanctuary.
For more information: aubergeresorts.com/bluesky/
Follow The Lodge at Blue Sky on Facebook and Instagram @BlueSkyAuberge
ABOUT Auberge Resorts Collection
Auberge Resorts Collection is a portfolio of extraordinary hotels, resorts, residences and private clubs. While each property is unique, all share a crafted approach to luxury and bring the soul of the locale to life through captivating design, exceptional cuisine, innovative spas, and gracious yet unobtrusive service. With 22 one-of-a-kind hotels and resorts, Auberge invites guests to create unforgettable stories in some of the world's most desirable destinations.
For more information: aubergeresorts.com
Connect with Auberge Resorts Collection on Facebook Twitter and Instagram @AubergeResorts and #AlwaysAuberge
ABOUT THE WELL
THE WELL is pioneering a new way to care for your health. Drawing from both Eastern and Western medicine, we bring together doctors and healers to collaborate and create best-in-class spaces, products and content that help you feel the best you can. At THE WELL, your health is integrated, proactive and personalized.
For more information: the-well.com or follow on Instagram @thewell.
MEDIA CONTACTS
Murphy O'Brien Public Relations
blueskyteam@murphyobrien.com
Bacchus Agency
thewell@bacchus.agency
###