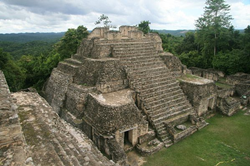 you'll begin enjoying a Chaa Creek learning adventure together right now, in the comfort of your own home
SAN IGNACIO, BELIZE (PRWEB) April 08, 2020

Travel and other restrictions are forcing many people to postpone long awaited vacations. Yet, according to Belize's The Lodge at Chaa Creek, families can still enjoy some of the benefits of a Belizean holiday in their own homes with a Virtual Belize Vacation.
Chaa Creek's Public Relations manager, Denise Duran, says planning now for a real Belize vacation can be a fun, educational way for families to spend time together.
"Travel restrictions, business closures and other measures currently in place to fight the Coronavirus pandemic will pass. And preparing for your Belize vacation now will help you and your family enjoy it to the fullest when you finally are able to visit us.
"An added bonus is that you'll begin enjoying a Chaa Creek learning adventure together right now, in the comfort of your own home," Ms Duran said.
Chaa Creek, Belize's oldest family owned and operated eco-resort, has always been family-friendly, Ms Duran explained, and emphasises educational adventures that encourage visitors to learn about the nature, cultures and ancient Maya civilisation of Belize while enjoying a fun, relaxing vacation.
"So, our suggestions for a virtual vacation encourage all those things that promote family togetherness while having fun learning about Belize," she said.
A recent post on Chaa Creek's Belize Travel Blog, "Six Steps To Prepare For A Chaa Creek Family Vacation" suggests activities families can share right now to begin enjoying a future Belize vacation, she said.
"Our suggestions are simple, doable, and encourage families to work together and have fun while planning their future adventures."
Chaa Creek's six steps are; Explore, Plan, Learn, Prepare, Outfit, and develop an Itinerary.
Exploring, Ms Duran explained, may involve each family member learning about a particular aspect of their vacation destination, such as the land, people, culture, language, or places to visit, and so on.
"And then, perhaps during a family fun night, they can share their findings and start putting together a picture of what their Belize vacation will look like. It's a great way to start feeling the excitement," she said.
After virtually exploring Belize, they can now begin planning where to go and what to do during their Belize holiday.
"Now, while putting a plan in place, everyone can start learning about more specific activities and places. For example, many people discover that Belize is one of the world's top birding spots, and they develop a lifelong love of birding here. So, this would be a good time to learn more about birds and birding resources. Or maybe learn about Belize's ancient Maya civilisation to make visits to the Maya temples come alive.
"Belize has so many niches and things to do that the possibilities are almost endless," Ms Duran said.
Step four, "Prepare" involves preparing a list of things to bring along. Binoculars, a Spanish language book for practicing Spanish in English-speaking and bi-lingual Belize, hiking boots, drybags for canoe trips, notebooks, field guides of birds, and other items can enhance a Belize vacation.
"Thinking about what to bring leads to the next step – outfitting, or shopping for those things. Belize is a casual country that's famous for its pleasant weather, so you don't need to bring very much for a great vacation. And after being cooped up, some 'retail therapy' may be a treat. If it's okay to go out to stores, fine. If not, online shopping can be just as much fun.
"Everyone likes shopping for an adventure, so this is another step that builds excitement, and can be fun for the entire family," Ms Duran said.
The final step, the Itinerary, is where Chaa Creek can become involved, she explained.
"Hopefully, by now things are starting to return to normal, and everyone is ready to get out and start enjoying vacations again. Reconnecting with nature, other travellers and local people will be so refreshing after being stuck in one place.
"You've done the research, have an idea of the many things to do and see in Belize and at Chaa Creek's 400-acre private nature reserve, and now's a good time to revisit the Chaa Creek website and start planning your itinerary.
"And this is where Chaa Creek's complimentary vacation planning service can come in. Our team of local Adventure Planners know everything there is to know about Belize, and are here to work with visitors to help plan the most satisfying, personalised, and budget-conscious vacations imaginable.
"Along with the other complimentary activities that come with every room, such as guided early morning birding walks, guided visits to the onsite Belize Natural History Museum, Butterfly Breeding Farm, Maya Medicinal Plant Trail, canoeing, and more, visitors can have a completely safe and satisfying Belize vacation right here
"From the time we pick you up at Belize's international airport until we drop you back off, you're in Belize's most trusted, experienced hands," Ms Duran said.
She added that,
"All of us here at Chaa Creek want to acknowledge and salute people around the world who are doing their bit to help everyone get through this pandemic. In addition to healthcare workers, first responders, doctors, nurses, everyone on the front lines fighting this pandemic, we thank all the people, from all walks of life, practicing social distancing and other measures.
"Chaa Creek's owners, managers and staff look forward to welcoming guests again as soon as possible. Until then, please stay safe, and remember; we're all in this together."
The Lodge at Chaa Creek is a multi-award winning eco resort set within a 400-acre private nature reserve along the banks of the Macal River in Belize. It was recognised by National Geographic with first place honours at the 2017 World Legacy Awards held in Berlin.
ENDS