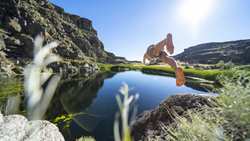 Devil's Corral is one a kind. Its beauty redefines high desert living and its central location gives unprecedented access to outdoor adventure of all kinds
TWIN FALLS, Idaho (PRWEB) September 04, 2020
The Lofthus Group announced today an agreement with Devil's Corral of Twin Falls Idaho to provide realtor services to aid with the development and lot sale of Devil's Coral. Devil's Coral is a 200-acre residential home development site located in the scenic canyon of the Snake River. Its unique canyon geography makes it an exclusive area linking it to the surrounding trails, parks, outdoor activity and the many features of the canyon including one of the largest waterfalls in North America, Shoshone Falls and surrounded by 1000s of acres of BLM.
Devil's Coral will be built as a planned community with up to 50 one-acre housing lots east of Twin Falls, Idaho. The development will allow for flexibility in the elevation of homes that meet eco-friendly styles, focus on quality, and bring architectural designs that enhance the canyon surroundings.
Devil's Corral is located within 10 minutes of downtown Twin Falls, known as a gateway to Snake River Canyon just north of the city including the Snake River Canyon Rim trail. Twin Falls has a growing population of approximately 50,000 and has an active Parks and Recreation department as stewards "of over 1,650 acres of parks and open spaces, in over 80 public areas including parks, urban wilderness space, trails, playgrounds, ball-fields, swimming pool, splash pad, and landscape areas throughout the community." - https://www.tfid.org/486/Parks-and-Recreation.
Twin Falls has a strong school district with over 16 schools for K thru 12 that can be viewed on its website - https://www.tfsd.org/. In addition, it is centrally located within two hours driving to Sun Valley Resort ski areas and the Sawtooth Mountains. Boise Idaho, a metropolitan area of over 500,000, is a two-hour drive and Salt City Utah, is a three-hour drive giving Twin Falls central access to North America's greatest playgrounds.
The Lofthus Group and Devil's Corral will soon announce a marketing development firm to help define and enhance the image and locations of Devil's Corral as a planned community. The Lofthus Group commented, "Devil's Corral is one a kind. Its beauty redefines high desert living and its central location gives unprecedented access to outdoor adventure of all kinds. It's perfect for active families or couples wanting to maintain an active lifestyle."
For further information on the opportunity at Devils Coral, please contact: Chris Lothus or Gerri Kelley at 208 514 5003 or 208 571 3360
About The Lofthus Group LLC
The Lofthus Group LLC was formed to provide buyers and sellers of Twin Falls real estate a vigorous approach to achieving results when buying or selling. The Lofthus Group maintain a vibrant marketing presence and approach (both digital and relationships) that ensures sellers the maximum exposure and value for their properties. A former PGA golf professional, Chris and team know how to bring a competitive and tactical edge for businesses and families looking to relocate to Idaho.
Contacts:
Chris Lofthus
208 514 5003
lofthus123@gmail.com
Gerri Kelley
208 571 3360
gerrikelley@hotmail.com