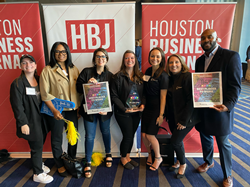 "Being included in Houston's top workplaces is the most meaningful accolade we can achieve. We are so grateful. Our team is incredible, and we are so lucky to be in business with them."
HOUSTON (PRWEB) November 08, 2021
The Loken Group, a residential real estate team with Keller Williams, has ranked on the Houston Business Journal's Best Places to Work list since 2013, and this year they were in the top 20 medium-sized companies (50-99 employees). The award recognizes companies in the Houston area with the most satisfied employees, determined by factors such as corporate culture, work retention and attraction strategies, employee perks and benefits.
"We are so thankful to be included on this list once again," said Lance Loken, Co-Founder of The Loken Group, following the 2021 Houston Business Journal's Best Places to Work award ceremony. "It is always an honor to be recognized alongside amazing other local businesses here in Houston."
The Loken Group offers numerous benefits to their team members, including individual and group coaching, in-depth training, flexible remote opportunities, masterminding with industry leaders, and other educational resources to help them grow and thrive. They also provide fun perks, like regular happy hours and team events, a bar and café area that team members have dubbed "Club TLG", and generous rewards for meeting and surpassing their goals.
Karina Loken, Co-Founder of The Loken Group, stated her thanks and appreciation for ranking on the HBJ Best Places to Work list for the 9th year in a row. "Being included in Houston's top workplaces is the most meaningful accolade we can achieve. We are so grateful. Our team is incredible, and we are so lucky to be in business with them."
Looking for an opportunity in a top-ranking work environment? The Loken Group is hiring! Visit https://thelokengroup.applicantpro.com/jobs/ to apply and learn more.
The Loken Group, a team of specialists out of the Keller Williams Platinum office, serves real estate buyers, sellers, and investors in all 9 counties in the Greater Houston Area. They were named #1 in the Houston Business Journal's 2021 Top Residential Real Estate Large Teams (based on 2020 sales volume and transactions) and #1 in REAL Trends by Wall Street Journal in 2020 (based on 2019 transaction sides). In addition, they have been named the #1 Best Place to Work in Houston (2018, 2017 and 2015, medium companies, Houston Business Journal). In 2021, Keller Williams Realty International named The Loken Group #1 in the world for non-expansion group volume and units based on 2020 closings. For more information about The Loken Group, please visit our website, http://www.TheLokenGroup.com.