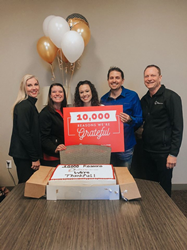 "This milestone achievement of 10,000 closings could not have happened without the trust of our cherished clients and the hard work and efforts of our amazing team."
HOUSTON (PRWEB) February 10, 2020
Local real estate team The Loken Group with Keller Williams Platinum celebrated their 10,000th closing with one of their clients on Friday.
"We're incredibly grateful that we have had the opportunity to help so many individuals and families with their real estate needs," said Lance Loken, CEO of The Loken Group. "This milestone achievement of 10,000 closings could not have happened without the trust of our cherished clients and the hard work and efforts of our amazing team."
Since opening their doors in 2011, The Loken Group has grown to 86 employees and is now the No. 1 real estate team in Texas (2019 REAL Trends (Wall Street Journal) The Thousand Rankings, Teams by Transaction Sides in 2018 – 2,028). In addition to industry accolades, they have been featured on the Houston Business Journal's Best Places to Work list since 2013, ranking No. 1 in 2015, 2017 and 2018. Since founding the team, The Loken Group has also founded a nonprofit, TLG Gives, that benefits families in need in the Houston community.
"What really unifies everyone at The Loken Group is living out our mission of inspiring a positive, lasting impact, which we make our number one priority in everything we do," said Karina Loken, Founder of The Loken Group. "With each family we have helped find a home, we have strived to give back to a community that has given so much to us."
The Loken Group, a team of specialists out of the Keller Williams Platinum office, serves real estate buyers, sellers and investors in all 9 counties in the Greater Houston Area. They were No. 1 (Ranked by 2018 Sales Volume - $517.91 million) in the Houston Business Journal's 2019 Top Residential Real Estate Large Teams. In 2019, Keller Williams Realty International named The Loken Group No. 1 in the world for non-expansion group volume and units based on 2018 closings, and gave the company's CEO, Lance Loken, the prestigious Excellence Award. For more information about The Loken Group, please visit our website, http://www.TheLokenGroup.com.