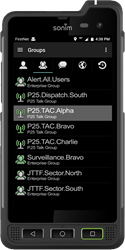 SAN LUIS OBISPO, Calif. (PRWEB) July 24, 2018
ESChat (Enterprise Secure Chat) today announced its selection by the Los Angeles Regional Interoperable Communications System (LA-RICS) to continue testing secure Push-to-Talk over Broadband service with its member agencies, including the Los Angeles County Sheriff's Department and the Los Angeles County Fire Department. This expanded testing will include providing ESChat capabilities for up to 1,000 broadband users, plus interoperability with the County's traditional Land Mobile Radio (LMR) networks by use of radio gateways previously purchased by LA-RICS. ESChat will add advanced LMR interoperability with the LA-RICS network via the P25 Inter RF Subsystem System Interface (ISSI).
Los Angeles County public safety agencies continue testing Push to Talk over Broadband technology as part of the LA-RICS Public Safety Broadband Network (PSBN) early builder initiative. ESChat was evaluated during the "Tournament of Roses Parade" and "West Hollywood Halloween Carnival" events of 2016, 2017 & 2018. ESChat was used on ultra-rugged Android devices by Sonim Technologies and operating over the LA-RICS dedicated Band 14 LTE spectrum, as well as iOS devices on the commercial Verizon and AT&T networks. Using ESChat, public safety professionals were able to securely communicate with each other, and also with users on the county's LMR networks.
The LA-RICS Band 14 LTE network has recently been integrated with FirstNet, which is operated by AT&T. FirstNet is a Nationwide Public Safety Broadband Network (NPSBN) that is dedicated for use by public safety. FirstNet uses a public safety dedicated LTE core and provides first responders with enhanced Quality of Service (QoS), as well as radio access network (RAN) Priority and Preemption, ensuring subscribers access to the LTE network with sufficient bandwidth for Push-to-Talk communication during times of high network congestion, such as a law enforcement emergency, a natural disaster or large public event.
ESChat is a FirstNet Certified Push-to-Talk solution that is offered exclusively for use by military, public safety and enterprise business users. The ESChat base feature set includes secure push-to-talk voice, multimedia messaging (text and images), plus live and historical (bread crumb) location tracking and mapping. All ESChat communications are encrypted using AES-256 to ensure voice and message privacy.
Public safety personnel utilizing the LA-RICS network using ESChat will be operating over FirstNet and Verizon Wireless, who has also committed to launching a dedicated LTE core for public safety. One of ESChat's benefits is its native ability to provide secure communications across these dedicated public safety networks.
The ESChat product suite supports Android and iOS smartphone devices and personal computers. ESChat is available as a monthly service when hosted on the Amazon AWS Commercial or GovCloud platforms. ESChat servers can optionally be hosted by the end customer where required.
About ESChat:
ESChat (http://www.eschat.com) is the leading solution for carrier independent Secure Push-to-Talk (PTT) over LTE communications. ESChat includes AES-256 encrypted PTT voice and multimedia (text and image) messaging. ESChat also provides live and historical (bread crumb) tracking and mapping. Currently used by the U.S. Military as well as Federal, State and Local law enforcement, ESChat is able to operate over and across any wireless network, including all commercial carriers, private 3G/4G networks and WiFi. ESChat supports interoperability with all LMR radio networks, including P25 via the native Inter RF Subsystem Interface (ISSI) protocol and DMR via the native Inter Application Interface Specification (AIS) protocol.
About LA-RICS:
LA-RICS (http://www.la-rics.org) is a Joint Powers Authority formed and operated by the County of Los Angeles and 23 municipalities in Los Angeles County. It is a network of 74 fixed and mobile transmission towers that allow data such as video, photos, maps and medical data to be shared by first responders, emergency services personnel and hospitals in Los Angeles County. Construction continues on the LMR portion of the system that will include 61 communications sites across Los Angeles County. It will replace an aging system, significantly improving interoperable communication between agencies during large-scale emergencies.
Additional Information can be found at http://www.eschat.com/