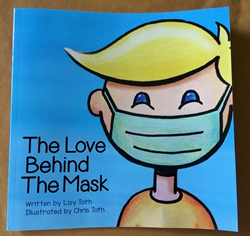 The Love Behind The Mask book title says it all. There is love behind every mask.
PALM BEACH, Fla. (PRWEB) August 26, 2020
The Love Behind The Mask children's book was created by Lizy and Chris Toth during quarantine as a way to speak with their own children about the importance of a mask with reminders to wash hands and keep social distancing when possible.
When people wear a mask they are not only protecting themselves and their families but they are protecting everyone around them.
The book was #1 New Release on Amazon and it can be purchased HERE.
Lizy Toth the author of the book says that when she first heard about the coronavirus on the news she didn't know what to think about it just like everyone else but she started wearing a mask right away. At that time when she would go to the grocery store wearing a mask people would actually walk away thinking something was wrong.
A few weeks later when everyone was able to learn more about the virus and schools and businesses closed and everyone went into quarantine she started thinking about the reason she was wearing a mask and the idea to write a children's book came to her to help explain to her twin boys that she was wearing a mask not only to protect herself and her family but to protect everyone around her.
She had the idea and now she needed to make it happen so she started writing the book. Since it is her first book she had a lot to learn and research but once her idea was written down her husband Chris Toth who is a designer/illustrator was able to make the book come to life with beautiful illustrations.
As parents themselves they feel that they are contributing with something good and helpful in such a stressful and uncertain time and the title of the book "The Love Behind The Mask" says it all. There is love behind every mask.
Family, friends and the local community have been very supportive of the book's message. You can read more about the inspiration for the book in the author website lizytoth.com