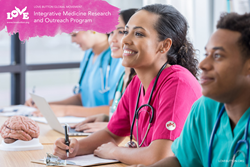 Love Button initiates loving into the training of physicians, to equip them with heightened compassion and empathy in healing their patients - Dr. Habib Sadeghi
LOS ANGELES (PRWEB) October 30, 2018
The Love Button Global Movement Integrative Medicine Research and Outreach Program is grounded in the core belief that love, compassion, and empathy are essential character components for the most successful physicians. Love Button awarded over $100,000 in grants with the intention of improving overall patient wellness and healing outcomes through enhanced delivery of physician services, refined doctor-patient interactions, and an enriched patient experience. Key partners include Harbor-UCLA Medical Center, Western University of Health Sciences and California State Polytechnic University at Pomona.
The Love Button Global Movement was founded by Dr. Sherry Sami and Dr. Habib Sadeghi, the author of the acclaimed book, The Clarity Cleanse, to create a platform to support educational and humanitarian programs with an emphasis on promoting physical, mental, emotional and spiritual health through loving. Dr. Sadeghi said, "Through this program, Love Button initiates loving into the training of physicians, to equip them with heightened compassion and empathy in healing their patients."
Western University of Health Sciences, a private, non-profit, graduate school located in Pomona, California is the strategic partner of the Love Button Global Movement Integrative Medicine Research & Outreach Program. Through the College of the Osteopathic of the Pacific at Western University of Health Sciences, it will offer the Integrative Medicine Track, a program providing medical students with the skills they will need to apply whole person care to their future patients. A group of students will be selected to engage in an innovative curriculum that includes training in communication, empathy, shame as a motivator, art and music as a healing tool, and education in multitude care delivery modalities.
The rapid growth and integration of technology into healthcare has resulted in a decline in the healing art of medicine.There is considerable evidence to support the premise, as medical students navigate their way through medical training, their ability to empathize with patients decreases, and simple skills in non-verbal and verbal communication also decrease during their training. Physician burn-out is on the rise. The outside stressors from an unstable healthcare system, focused on volume rather than value-based care, have contributed to early retirements or the switching of careers for physicians. Patients have also suffered from the changing landscape of medicine, as physicians are not using all the skills necessary to heal their patients.
Dr. Edward Barnes, Associate Dean of Academic Innovation of College of Osteopathic Medicine of the Pacific at Western University of Health Sciences, said, "Fortunately, we are not at the end of the journey for medicine or medical education. We can influence the trajectory of our future physicians if we equip them with the proper tools to not only survive their journey but lead the way and create a better path. We are excited to embark on this endeavor to create the doctors of the future with the Love Button Global Movement."
Harbor-UCLA Medical Center was awarded a $60,000 grant from Love Button Global Movement to create a new integrative medicine program on its campus. The goal of this program is to improve patient access to non-pharmacologic options for chronic pain management, improve patient health-related quality of life and functional status, and decrease the number of opiate prescriptions for patients suffering from chronic pain. Through this grant, the hospital envisions providing an evidence-based whole-person centered, multi-modal approach to pain management. This would include pain coping strategies, acupuncture, massage therapy, tai chi instruction, and self-care education. Harbor-UCLA Medical Center plans also to create an academic curriculum to educate and train physicians, social workers, and behavioral health specialists in integrative medicine techniques to manage chronic pain.
"This generous support from Love Button Global Movement enables Harbor-UCLA Medical Center to establish an integrative approach to caring for patients who struggle with pain," said Anish Mahajan, MD, Harbor-UCLA Medical Center Chief Medical Officer. "Love Button's commitment to complementary medicine allows us to identify alternative treatments and help our patients avoid long-term opioid dependence." Harbor-UCLA Medical Center is a Level I trauma center located in the South Bay area of Los Angeles County that provides health care services to over 700,000 residents, regardless of the ability to pay for care.
A second grant of $50,000 was awarded to Cal Poly Pomona, creating an endowment to provide for integrative medicine educational programs that promote the pyscho-social needs of students. The university's Mind and Heart Research Lab employs scientific methods in the form of biofeedback to help students on their journey toward a less stressful, more connected existence. It includes stress management and heartful awareness, an integrated sense of harmony with our body, psyche, spirit and outer world to find healing and transformation through better integration of the mind and body.
On February 5, 2019, Alane Daugherty, lecturer at Cal Poly Pomona, and co-founder of the Mind and Heart Research Lab, will kick off the lecture series with the topic, From Stress and Anxiety to Resilience and Success. Daugherty said, "People will learn how to rewire their stress response and experience life from a state of calm and connectedness. Through a better understanding of the physiology of stress, attendees will gain a blueprint for change and get practical tips they can apply in their daily lives and cultivate expansiveness and possibility."
Love Button president Dr. Sami said, "It is Love Button's privilege to offer the Integrative Medicine Research and Outreach Program and to be of service to our human family. Together we will develop the compassionate doctors of tomorrow who address the whole person -mind, body and spirit- utilizing complementary modalities. These amazing doctors will appreciate the importance of loving and engage a full range of holistic skills, including listening, communications, and linguistic healing."
The Love Button Global Movement is a 501c3 nonprofit organization that promotes a culture of love by inspiring our human family to act with loving kindness in our daily lives and supports humanitarian and educational programs that empower individuals and uplift communities locally and globally.
Join the Movement and support the Integrative Medicine program at https://www.lovebutton.org/givelovecampaign/