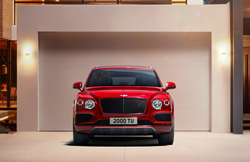 ST. LOUIS (PRWEB) January 30, 2020
With its beautiful styling, off-road prowess, powerful engine options, quick acceleration, a roomy and refined interior, state-of-the-art technologies and a plethora of luxurious amenities, the 2020 Bentley Bentayaga is a superb choice for automotive shoppers that are looking for an ultra-luxury SUV that provides high-level capabilities. St. Louis Motorcars, a dealership with a reputation for exceptional customer service, now offers the 2020 Bentayga.
It's easy to get drawn into the beautiful design of the 2020 Bentayga. It has a muscular stance, an aluminum exterior, large wheels and a distinctive crease that flows along the side of the vehicle. The beautiful design continues into the cabin, with its high-quality craftsmanship, mood lighting to create a soothing atmosphere and a choice of either a wood or a carbon fiber dashboard. The interior of the Bentley is quite spacious, with the ability to comfortably seat up to seven passengers.
The 2020 Bentayga is wonderful for off-road excursions. With its advanced all-wheel drive system, the Bentayga provides confident traction when driving over challenging terrains. Drivers can also customize the Bentayga according to the terrain conditions with the All-Terrain Specification function, with settings for "Dirt & Gravel," "Snow & Grass," "Mud & Trail" and "Sand." Additionally, the Bentayga is highly capable on the towing front, with a maximum towing capacity of 7,716 pounds.
Buyers of the 2020 Bentayga have a choice of three robust engines. The V8 engine generates an output of 542 horsepower and 568 pound-feet of torque, while the V12 engine doles out 600 horsepower and 663 pound-feet of torque. The Bentayga also offers a V8 diesel engine, which churns out 429 horsepower and 664 pound-feet of torque. When equipped with the V12 engine, the Bentayga can reach a top speed of 187 mph and go from zero to 60 mph in only four seconds. Customers that desire an eco-friendly and efficient SUV can get the Bentayga Hybrid.
For additional information about the 2020 Bentley Bentayga and other models at St. Louis Motorcars, automotive customers are encouraged to visit the dealership's website at http://www.stl.cars.
St. Louis Motorcars is located at One Arnage Boulevard in St. Louis. The dealership can be reached via telephone at (636) 489-3788.