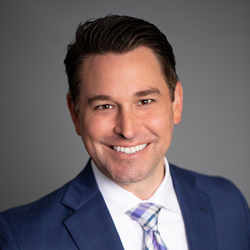 By partnering with Side, we're taking our dedication to customer service to the next level
ORLANDO, Fla. (PRWEB) May 17, 2021
The Madorin Group today announced the formation of Upwell Realty and its partnership with Side, the only real estate technology company that exclusively partners with high-performing agents, teams, and independent brokerages to transform them into market-leading boutique brands and businesses. The alliance will ensure that Upwell Realty, a firm with a demonstrated commitment to client happiness, is powered by the industry's most advanced platform.
Since 2013, founder Kyle Madorin has provided concierge-level real estate services that have gained him wide recognition in Orlando and nationally. He consistently performs in the top 1% of real estate agents in the Orlando area and is ranked as one of the Top 100 Agents in the United States by RateMyAgent. Serving a range of buyers, sellers, and investors throughout Central Florida, Upwell Realty will continue The Madorin Group's client-centered approach and build on its reputation for exceptional customer care.
Partnering with Side will ensure Upwell Realty remains on the cutting edge of the evolving real estate market while continuing to deliver premium services to its clients. Side works behind the scenes, supporting Upwell Realty with a one-of-a-kind brokerage platform that includes proprietary technology, transaction management, branding and marketing services, public relations, legal support, lead generation, vendor management, infrastructure solutions, and more. Additionally, Upwell Realty will join an exclusive group of Side partners, tapping into an expansive network from coast to coast.
"Our high referral rate speaks to the level of service we provide our clients," said Madorin. "By partnering with Side, we're taking our dedication to customer service to the next level. Side's world-class marketing, technology, administrative, and legal support increases our capabilities and guarantees our clients have the necessary edge in today's competitive real estate market."
Side is led by experienced industry professionals and world-class engineers who develop technology designed to improve agent productivity and enhance the client experience. Based on its belief that homeownership is a fundamental human right, Side is on a mission to improve the public good by providing top-performing real estate agents, teams, and indie brokerages with the best system, support, service, experience, and results.
About Upwell Realty
Upwell Realty takes a concierge-style approach to real estate. Customer happiness is each agent's guiding principle, and their dedication to their clients' dreams is evident in everything they do. From first-time homebuyers and relocators to luxury investors, Orlando-area buyers and sellers will never think about real estate in the same way again. For more information, visit http://www.upwellrealty.com.
About Side
Side transforms high-performing agents, teams, and independent brokerages into successful businesses and boutique brands that are 100% agent-owned. Side exclusively partners with the best agents, empowering them with proprietary technology and a premier support team so they can be more productive, grow their business, and focus on serving their clients. Side is headquartered in San Francisco. For more information, visit http://www.sideinc.com.