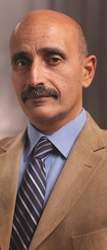 NEW YORK (PRWEB) October 30, 2019
The Magdi Yacoub Global Heart Foundation is pleased to welcome Dr. Wael Abdelaal to its U.S. team. Dr. Abdelaal has been Medical Director of the Aswan Heart Centre since 2010 and joins the Foundation as Medical Director for the next phase of growth. He will be instrumental in developing technical and funding partnerships to support the new Magdi Yacoub Global Heart Centre in Cairo.
"After nearly 10 years in Aswan, I can attest to the effectiveness of our integrated model of care, research and training, and the urgent need for our Cairo expansion. I am eager to work with our U.S. team to build the partnerships and support necessary to achieve our vision of greater global health outcomes," Dr. Abdelaal said.
Dr. Abdelaal is a healthcare executive who began his career as a pediatric cardiologist. He went on to cofound the Aswan Heart Centre, continuing his leadership as Medical Director of the center and its life sciences research center. During his career he foresaw the opportunity of how e-health can revolutionize healthcare and in 2018 he cofounded a startup telehealth company, TeleMed International.
"Dr. Abdelaal brings firsthand expertise and intimate knowledge of both the Aswan Heart Centre and the medical field," explains Foundation Board Chair, Magdy Ishak. "His insights will be invaluable to the progress of the Magdi Yacoub Global Heart Foundation and the new Global Heart Centre in Cairo."
The new center, scheduled to open in 2021, builds upon the Aswan model of integrated medical care, research, and training, which has evolved and proved successful over the last ten years. It will provide a hub in Cairo with expanded training programs for African medical personnel. This will include support to launch satellite hospitals in their home countries – creating a pan-African network of expert care that is instrumental to greater global health.
Dr. Abdelaal earned a degree in cardiology from Cairo University and studied at Harvard University, Harefield Hospital, and the Cleveland Clinic. He will be based in New York.
About the Magdi Yacoub Global Heart Foundation
The Magdi Yacoub Global Heart Foundation supports the Aswan Heart Centre in Upper Egypt and is raising funds for the future Magdi Yacoub Global Heart Centre in Cairo. Beyond providing urgently needed cardiac care, they impact the region and continent by advancing scientific understanding through research and building human health capacities with training programs.